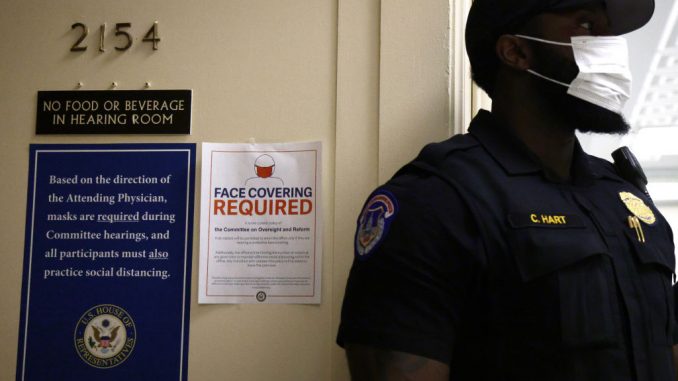 OAN Newsroom
UPDATED 6:08 PM PT – Thursday, July 29, 2021
House Republicans have refused to follow a newly imposed mask mandate in the House as Capitol Police are now being ordered to arrest any visitors not willing to comply. Capitol Police are to arrest any staff and visitors if they are not wearing masks on the House side of the Capitol and its office buildings. This is according to a memo obtained by Florida Rep. Kat Cammack (R) on Thursday.
Congressional aides, however, do not face arrest as officers are advised to report the noncompliance of lawmakers to the House sergeant-at-arms. This comes after Congress' chief physician re-imposed mask mandates on Wednesday, causing tensions to rise on the floor.
GOP lawmakers have said Nancy Pelosi's (D-Calif.) directive was tyrannical and an overstep of her authority as speaker of the House.
"I've watched the Democrats continue to lie to us. She first said if we were vaccinated, we'd go back to work. If we're trying to get America vaccinated, what type of message does this provide," said House Minority Leader Kevin McCarthy (R-Calif.). "We were vaccinated…we are not a hotspot, but they're forcing you to wear a mask, not in the Senate, but in the House. This is just about more control."
— U.S. Capitol Police (@CapitolPolice) July 29, 2021
South Carolina Rep. Nancy Mace (R) condemned the move on Thursday, accusing Pelosi of "an insane power grab." Taking to Twitter, the Republican Congresswoman said she would not wear a mask outside of the Chamber because she follows science and not Pelosi.
Mace also criticized the order for Capitol Police to arrest anyone who refused to wear a mask in the House, calling the move "nuts." Capitol Police released a brief statement on Thursday, saying there is no reason it should ever come to an arrest as long as everyone follows the rules.
In the meantime, U.S. Capitol Police said the department's requirement for officers to wear masks is for their own health and safety.