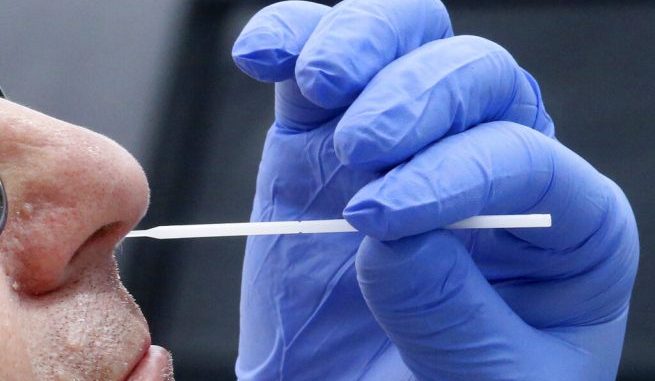 OAN Newsroom
UPDATED 10:44 AM PT – Tuesday, September 29, 2020
The Trump administration announced its latest step to reopen the country amid nationwide coronavirus shutdowns.
During a White House press briefing Monday, President Trump said he's sending out millions of rapid COVID-19 tests to the states. The President stressed, governors should use the point-of-care tests to help schools and economies in their states reopen as soon as possible.
"100 million rapid point of care tests will be given to states and territories to support efforts to reopen their economies and schools immediately, and fast as they can," he stated.
I just received word from the @WhiteHouse that Connecticut will be awarded tens of thousands of rapid #COVID19 tests—and roughly a million in total by the end of the year. This will further enhance our ability to be a leader in testing nationwide.

— Governor Ned Lamont (@GovNedLamont) September 28, 2020
President Trump also noted an additional 50 million will be sent to more vulnerable populations.
"50 million tests will go to protect the most vulnerable communities, which we've always promised to do," he continued. "Including 18 million for nursing homes, 15 million for assisted living facilities, 10 million for home health and hospice care, hospice care agencies, and nearly 1 million for historically black colleges and universities and also tribal nation colleges."
Throughout the COVID-19 pandemic, every time Georgia has asked President Trump, Vice President Pence, and the Coronavirus Task Force for resources, they have quickly met our requests. (1/3) https://t.co/GVGiQcNKKj

— Governor Brian P. Kemp (@GovKemp) September 28, 2020
The move comes as coronavirus cases are expected to rise in coming months as the weather starts to cool down. However, Vice President Mike Pence said Americans shouldn't be worried because of the U.S.'s advanced testing capabilities. The tests are being supplied by Abbott Laboratories and return results within about 15-minutes.
"This generally will be done by a healthcare provider, but it can be done supervised — its this easy," stated Adm. Brett Giroir, assistant secretary of Health and Human Services. "…the adhesive is pulled off and you wait 15-minutes and that is the test."
According to reports, it's likely to take a few months to get the rapid tests in the hands of all governors.