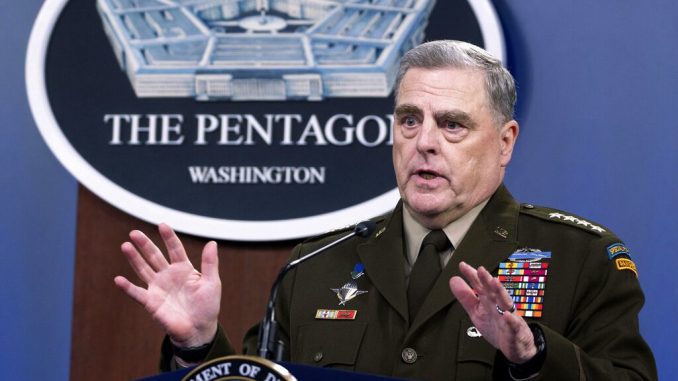 OAN Newsroom
UPDATED 1:28 PM PT – Thursday, July 22, 2021
The Chairman of the Joint Chiefs of Staff said the Taliban has put pressure on key cities in Afghanistan and has strategic momentum in its efforts to retake the country amid a U.S. troop withdrawal. In a news conference on Wednesday, Gen. Mark Milley said the coming months would be a test of the will and leadership of the Afghan people, Afghan security forces and the government of Afghanistan.
Milley said the Taliban now controls about half of the 419 district centers in the country and has put pressure on around half of the country's 34 provincial capitals. He added he believes the Afghan military and police have the training and equipment needed to prevent the Afghan government from being overtaken.
The Pentagon said the U.S. troop withdrawal is 95 percent completed and is expected to be finished by the end of August. Troops have been transitioning out of Afghanistan since the beginning of May.
Secretary of Defense Lloyd Austin said the U.S. would keep a close eye on Al-Qaeda operating in Afghanistan, adding the focus going forward is to make sure that terrorism can't be exported from Afghanistan to the U.S.
"The Taliban early on committed to not providing a safe haven for Al-Qaeda. We expect for them to meet that commitment," said Austin. "If they want legitimacy going forward, and I think that's something that they'll have to consider, that's one way to earn it."
A recent U.N. report warned the Taliban is preparing to forcefully take what they can through negotiations with Taliban deputies, saying they favor a military solution. This comes after recent talks between Taliban and Afghan government leaders in Qatar failed to reach a ceasefire agreement.
WATCH LIVE: Secretary of Defense Lloyd Austin and Gen. Mark Milley hold press briefing
https://t.co/H1LomOwmIV

— PBS NewsHour (@NewsHour) July 21, 2021
According to new reports, the Taliban said it now fully controls Afghanistan's borders with Turkmenistan and Iran. Additionally, reports in Northern Afghanistan said the Taliban has been forcefully collecting funds from residents and recruiting locals to add to its numbers.
A watchdog group monitoring the situation has said Afghan troops are deeply demoralized, adding corruption is rampant. Troops in many cases have been surrendering to the Taliban rather than fighting.
The decision to withdraw hasn't sat well with many Americans who fought in the war, who said they failed in their mission to defeat the enemy and uplift the country.
Meanwhile, the threat of the Islamic state remains present in the region. On Tuesday, rockets landed near the Afghan presidential palace in the capital city of Kabul, causing damage, however, no injuries were reported. The Islamic state has since claimed responsibility for the attack.