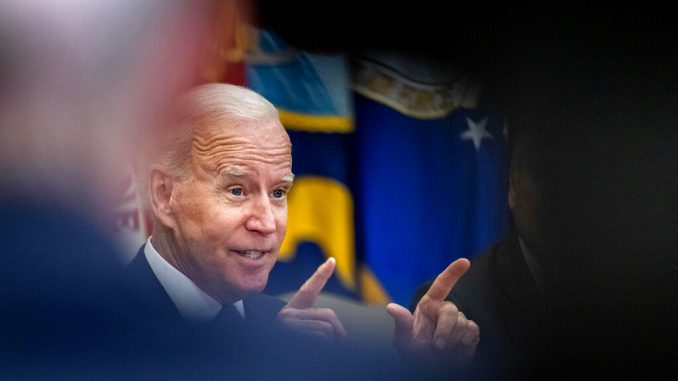 OAN Newsroom
UPDATED 7:12 AM PT – Friday, July 23, 2021
Joe Biden attempted to ramp up enthusiasm for the bipartisan infrastructure bill while the two major parties continue to clash on Capitol Hill. In a meeting on Thursday at the White House, Biden discussed the $1.2 trillion measure with people who represent unions, including those for manufacturers, electricians and painters.
"This is one of those meetings that we're looking forward to," he stated. "They're not here to negotiate with one another. The good news is that they've been here negotiating, supporting what we're trying to get done in the infrastructure bill."
Biden added, he's being traveling a lot and found the number one concern of foreign nations right now is whether the two major parties will come to an agreement.
"I tell ya, the rest of the world is looking to see whether we can get something done, I'm not joking," he explained. "The single biggest issue when we travel the world…the fact is they're trying to figure out whether we're so divided that we can't get something done."
It's mystifying why Rs continue to "negotiate" with Ds on "infrastructure" after Schumer/Biden made clear they intend to ram through—via partisan reconciliation—every expenditure, tax hike & policy excluded from the bipartisan "deal". The "negotiation" is an elaborate gimmick.

— Stephen Miller (@StephenM) July 22, 2021
Biden then promised that electrifying school buses, transit systems and building national charging networks for electric vehicles will help the nation win the global competition for infrastructure.
"It's not about energy versus environment, it's not about business versus labor," he asserted. "It's all about basically a race to the future."
The meeting appeared to be an attempt to drum up support for the infrastructure bill after Republicans blocked debate on the proposal because it wasn't complete. In the meantime, Republicans are promising to come to an agreement by next week.