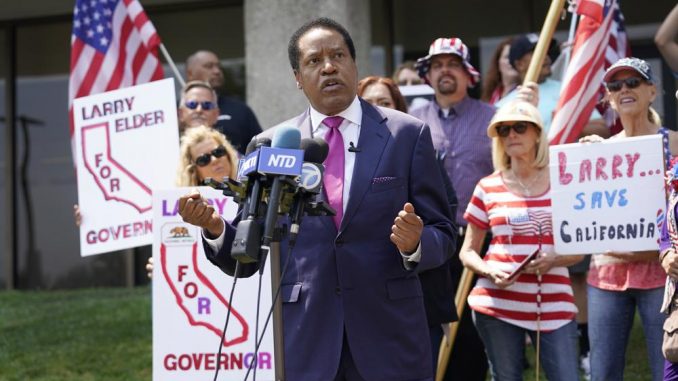 OAN Newsroom
UPDATED 7:56 PM PT – Thursday, July 22, 2021
The recall election for California Gov. Gavin Newsom (D) is just under two months away with the current election date slated for Sept. 14. An Inside California Politics/Emerson College poll of more than 1,000 registered voters in the Golden State showed that conservative talk show host Larry Elder is in the lead with 16 percent of voters saying they would vote for him if Newsom is recalled in September.
San Diego's former mayor, Kevin Faulconer (R), and conservative businessman John Cox fell behind Elder with each of them receiving six percent of votes. When asked by sources if he believes Newsom is vulnerable when observing the poll numbers, Elder indicated the Democrat governor has not been talking to media while he has done interviews with a wide range of outlets and communities.
WE WON!!!https://t.co/mnvU6rOkTD#RecallGavinNewsom#WeveGotAStateToSave pic.twitter.com/WcdZ1wj4wX

— Larry Elder (@larryelder) July 21, 2021
Elder added many Democrats won't even stand up for Newsom. During an interview on Tuesday, Kevin Faulconer said he challenged Newsom to a debate on Spanish and English television, but has not received a response from him.
In addition, Faulconer is suing the California secretary of state because he is not allowed to describe himself on the ballot as the former mayor of San Diego in order to prevent confusion among voters.
There are now 42 candidates running in the recall election after Elder won a lawsuit against the California secretary of state for not permitting him to run. Meanwhile, ballots could start showing up in mailboxes as early as next month as Newsom is continuing to fundraise, collecting more than $31 million from donors since March.