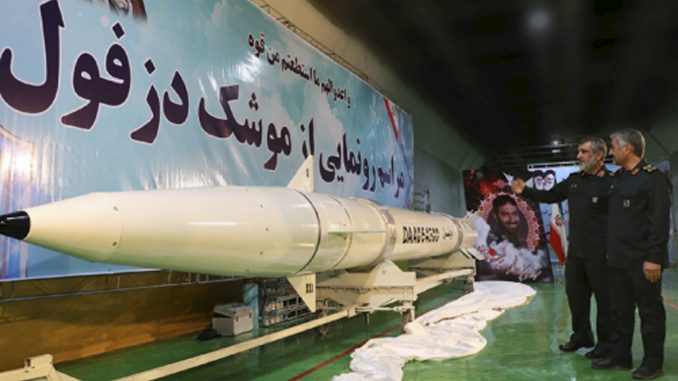 OAN Newsroom
UPDATED 7:43 AM PT – Wednesday, July 7, 2021
An Iran Revolutionary Guard general said America is and always will be an enemy of Iran. General Amir Ali Hajizadeh reecently called out ineffective U.S. foreign policy during a broadcast on Iran's Noor TV. This comes as the deadline closes in for Joe Biden to restart negotiations on the failed nuclear deal.
"If the enemy had had the power and ability to stop these things, it would have done so," stated the Iranian general. "Why is the enemy begging us? Wherever the enemy can do these things rather than beg, it does so."
Hajizadeh's comments followed a U.S. bombing in Syria, which resulted in IRGC bomb squad casualties. He also said he hopes one day the tables will turn, so Iran could impose sanctions on the U.S.
Iranian General Amir-Ali Hajizadeh: America Has Never Been the Friend of Iran – It Has Been Our Enemy and Will Remain Our Enemy; We Can Bring the Day When Iran Can Impose Sanctions on Them #Iran #IRGC #JCPOA pic.twitter.com/c2XgekfWE9

— MEMRI (@MEMRIReports) July 5, 2021
Critics are now accusing the Biden administration of wasting diplomatic leverage as they continue to lift sanctions on Iran despite the country continuing to ramp up uranium enrichment efforts.
In early June, the Wall Street Journal reported the U.S. lifted sanctions on various Iranian officials and national Iranian oil companies, seemingly in an effort to both improve the price of oil and regain momentum on stalled nuclear agreement talks in Vienna.
With recent U.S. airstrikes against Iranian backed militias along the Iraqi-Syrian border, the White House is demonstrating it's hard power action against the Ayatollah regime. Experts are now questioning whether the hard power actions on Iran's proxies are enough to regain ground-lost to Iran as economic sanctions continue to be lifted.
The Biden administration's appeasement and lifting of the sanctions ultimately is aimed at getting Iran to stop increasing uranium enrichment levels. On Tuesday, however, Iran informed the United Nations nuclear watchdog that they will be enriching uranium to 20 percent for nuclear reactor energy fuel.
The problem is: nuclear reactor fuel only requires a 3 to 5 percent enrichment, not 20. The only reason Iran would enrich to 20 percent is because they are on their way to achieving the 90 percent enrichment needed for weapons grade uranium.
Even Secretary of State Antony Blinken mentioned early in June that Iran's nuclear weapon breakout time is only getting closer.

As it sits right now, the Biden administration continues to lift sanctions on Iran though their nuclear program seems to still be moving full steam ahead.