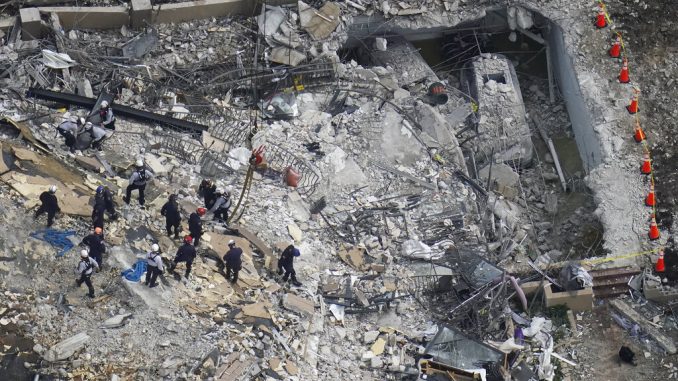 OAN Newsroom
UPDATED 7:26 AM PT – Tuesday, July 6, 2021
The death toll has continued to rise in the Surfside, Florida condo building collapse while the efforts of rescue crews have faced setbacks. On Monday, Miami-Dade Assistant Fire Chief Raide Jadallah told victims' family members that four more bodies had been recovered after the remaining section of the building was demolished in an effort to speed up search and rescue.
Florida Gov. Ron DeSantis (R) said the demolition was crucial in order for rescue operations to resume and allowed for crews to reach previously inaccessible parts of the building.
"We basically cleared a lot of the remaining hurdles, so you are going to see them working around the clock like they have been," stated the governor. "I think they are going to make more and more progress. More and more things are accessible."
We mourn for those we lost in Surfside and pray for a miracle. The people lost had impacts on their community, our state, our country, and the world. The families of Surfside are in our hearts and prayers. Florida and America stand with Surfside. pic.twitter.com/Ot3Kvie393

— Ron DeSantis (@GovRonDeSantis) July 3, 2021
Teams are working around the clock to find any remaining victims. Officials noted at this point, after the building's collapse, it would take a miracle to find anyone alive. Despite the odds, Miami Fire Rescue Captain Ignatius Carroll told reporters that rescue crews still have hope.
"What's driving us right now is hope; the hope that the family has in us being successful in finding their loved ones," he stated. "Until we overturn every stone, we remain that hopeful."
Carroll explained that providing families with closure by reuniting them with their lost loved ones was a gratifying mission.
Since the collapse last month, several Miami area buildings have been evacuated out of abundance of caution. Officials cited possible structural weaknesses and the county has launched a review of all high-rises over five stories.