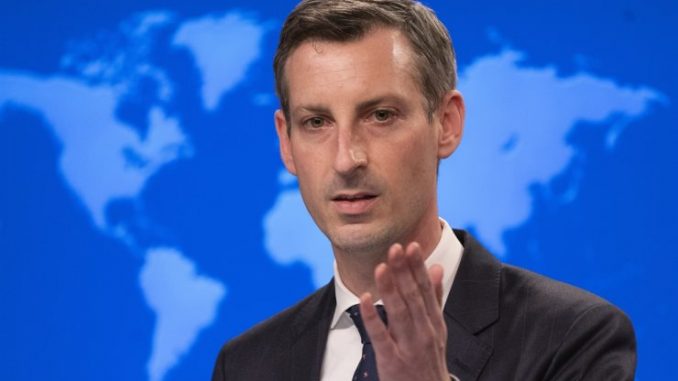 OAN Newsroom
UPDATED 6:42 AM PT – Friday, July 2, 2021
U.S. officials are sounding the alarm on China's growing nuclear arsenal. Specifically, the State Department voiced concern over the rapid expansion. During a press briefing on Thursday, State Department spokesperson Ned Price urged Beijing to reduce its nuclear arms.
According to a Washington Post report on Wednesday, Chinese officials have started construction on roughly 100 new missile silos located in a western desert region of the country. Price said the build-up of China's nuclear arsenal is concerning and is raising questions on their intentions.
"These reports and other developments suggests that the PRC's (People's Republic of China's) nuclear arsenal will grow more quickly and to a higher level than perhaps previously anticipated," stated the U.S. official. "This buildup, it is concerning. It raises questions about the PRC's intents and for us, it reinforces the importance of pursuing practical measures to reduce nuclear risks."
Price went on to stress the importance of nuclear power talks between nations in hopes of reducing nuclear dangers and avoiding miscalculations.
ICYMI: "US Calls Buildup of #China's Nuclear Arsenal 'Concerning'." @Reuters v @VOANews https://t.co/lsX7Qs1eAw pic.twitter.com/RptBugzjJY

— Christian Thiels (@ThielsChristian) July 2, 2021
This comes as a report by NBC News alleged the Chinese military has ties to the Wuhan Institute of Virology. The report from last week found a chief Chinese scientist at the Wuhan lab, Shi Zhengli, collaborated with at least two officials with the People's Liberation Army of China. Her contacts with Chinese military scientists date back to 2018 and 2019. They were related to gain of function research.
The mainstream media has long dismissed the Chinese military's involvement with COVID-19 as a conspiracy theory, but new evidence appears to confirm such assertions. Meanwhile, congressional Republicans are investigating the Wuhan lab experiments that were reportedly funded by Dr. Anthony Fauci's National Institutes of Health (NIH) to the tune of $600,000. If the involvement of Chinese military with Wuhan research is confirmed, Dr. Fauci's actions may raise a national security concern.