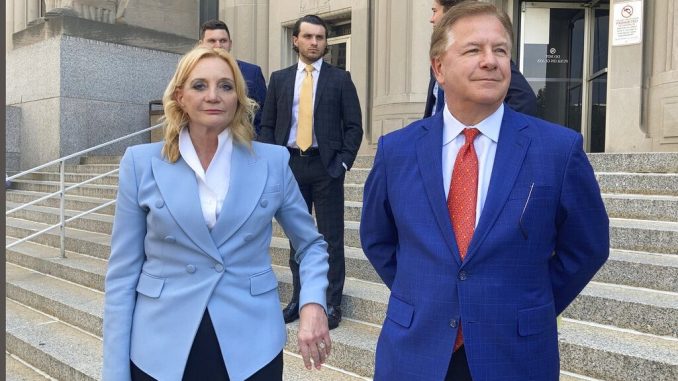 OAN Newsroom
UPDATED 9:24 AM PT – Friday, June 18, 2021
The Missouri couple who garnered nationwide attention for defending their home from protesters during last year's Black Lives Matter protests plead guilty to misdemeanor charges. On Thursday, Mark and Patricia McCloskey plead guilty to fourth-degree assault and misdemeanor harassment respectively.
The couple was forced to hand over the weapons they held while facing the crowd and those weapons will be destroyed. They were also sentenced to pay the maximum fines, owing $2,750 in total.
Let me be clear, I am not surrendering any of my other firearms! I will continue to be one of the strongest advocates for #2A in MO and around the country.

The two weapons that were seized from me were evidence in a criminal case. Per the state of MO they are to be incinerated.

— Mark McCloskey (@mccloskeyusa) June 17, 2021
In a statement following the hearing, McCloskey said he was happy with the outcome.
"Any time the mob comes and threatens me, I'll do the same thing again to protect my family," he stated. "I will never back down to the liberal mob in the Senate and I will always stand strong for Missouri."
Though the charges are misdemeanors, Missouri Gov. Mike Parson (R) is reportedly considering pardons for the couple.
A year ago, the mob came to my door to attack my family— I backed them down

The mob came for me, the media attacked me & prosecutors tried to punish me for defending my family

They dropped all charges, except for a claim I instilled "imminent fear" in the mob

I'd do it again. pic.twitter.com/ECPsSwa2Iw

— Mark McCloskey (@mccloskeyusa) June 17, 2021