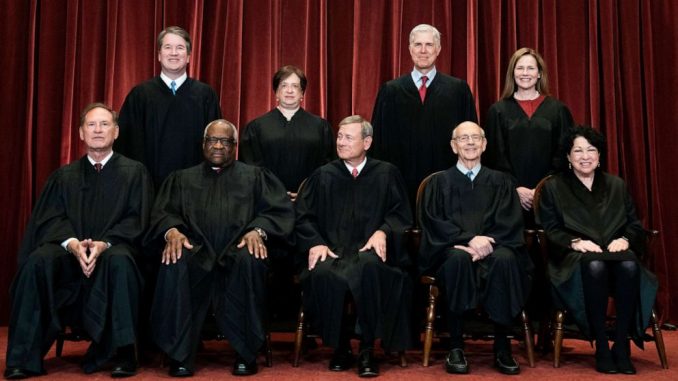 OAN Newsroom
UPDATED 8:00 AM PT – Sunday, June 13, 2021
The Supreme Court has pushed non-partisanship as progressives and activists try to pack the court. The court continued to disappoint congressional Democrats and activists this week with multiple unanimous and non-ideological rulings.
Joe Biden called the court "out of whack" and referred to its different ideological divisions. Frustrated Democrat leaders have called for mass changes that include packing the court with new justices, changing voting rules and even creating an alternative court.
Supreme Court Justice Stephen Breyer has warned lawmakers against alterations to the nation's highest court by arguing it could erode the public's longstanding confidence in the judiciary. This garnered immense criticism from far-left Democrats, including Alexandria Ocasio Cortez, who are calling on Breyer's retirement so Joe Biden can appoint a so-called "liberal justice."
COURT PACKING IN 3 MINUTES: YAF General Counsel Vic Bernson explains why Joe Biden's push to pack the Supreme Court is an absurd, power-grabbing move–and how conservative students can fight to change the narrative. #SavingSCOTUS pic.twitter.com/NWutXTIQo4

— YAF (@yaf) June 12, 2021
"What they say reported by the press to their constituents reinforces the view that politics, not legal merits, drive supreme court decisions," Breyer expressed. "They reinforce the thought that's likely present already in your minds that Supreme Court justices are primarily political officials, or let's call them junior league politicians, rather than jurists."
He went on to add most differences amongst judges are not political, but simply ideas on how to apply the law. Justice Breyer also denounced Democrats' claim that the Supreme Court is conservative and condemned calls to pack it with justices appointed by Democrat presidents.
Justice Sonia Sotomayor has also spoken out against calls that the court is partisan. In 2018, she told reporters that of the cases the high court hears, 40 to 70 percent are decided almost unanimously. Sotomayor also stated she believes judges approach judicial decision making in different ways.
"Judges are given a tool box of interpretive tools and with it we come to our conclusions. If you build a house with one tool it looks one way. If you pick a different tool, it looks another way," she explained. "So, that the political parties have aligned themselves with certain of our judicial approaches, we can't control and I'm saddened they are viewed as partisan in that way."
However, amid today's criticisms Justice Breyer appears undeterred in ruling with his conservative colleagues when he considers that to be appropriate. In fact, Breyer is coming out with a new book in September, which may slam lawmakers who are trying to influence the high court.