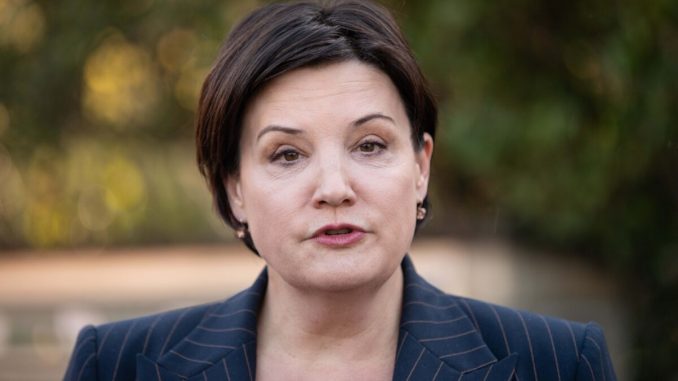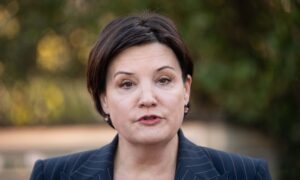 Jodi McKay has resigned as opposition leader of the New South Wales (NSW) Labor party, which comes after a bruising week that saw two MPs quit her shadow cabinet over a "dirt dossier" and a by-election loss in Australia's Upper Hunter region.
McKay said she was resigning despite having the "support of my caucus and our wonderful party members" at a tearful press conference on Friday.
"No one has asked me to stand aside—in fact, colleagues have asked me to stay. If a ballot was held today, I can tell you I would win," she said.
The NSW Labor leader, who won majority support for the top job in 2019 after the party's election defeat, said that although she was the elected leader, there were some within the party who never "accepted the outcome."
"When the new leader is determined, we must all accept the outcome, support them, and work to win Government in 2023 because NSW deserves no less," she wrote on Twitter.
Today I stood down as leader of the Labor Party in NSW. I do this with a very heavy heart. No one asked me to stand aside. When the new leader is determined, we must all accept the outcome, support them and work to win Government in 2023 because NSW deserves no less. #nswpol

— Jodi McKay (@JodiMcKayMP) May 28, 2021
NSW Labor party policies and McKay's leadership have come under scrutiny following the Upper Hunter by-election last week, which saw Labor's primary vote slip to 21 percent from 29 percent in 2019.
Following that result, McKay gave her colleagues 48 hours to challenge her for the leadership spot but none did.
She then insisted she had the support of her colleagues and would remain as leader, even as two frontbenchers resigned from her shadow cabinet: Chris Minns, the shadow minister for transport and a potential leadership challenger, and Shadow Treasurer Walt Secord.
After Labor's 2019 election defeat, Minns had challenged McKay for party leadership, losing the caucus vote 21 to 29.
Minns on Wednesday declared his position "untenable" after a "dirt dossier" was allegedly circulated by a staffer from the office of deputy leader Yasmin Catley.
In his resignation statement, Minns said neither McKay nor Catley had contacted him in the 24 hours since the dossier was leaked.
Secord's resignation followed, prompted by McKay telling reporters that she had no knowledge of the so-called "dirt dossier." She later doubled down on this during an interview with Sky News Australia.
The staffer was sacked and the contents of the dossier are unknown to The Epoch Times.
At the time, Minns did not publicly challenge McKay for the leadership, having said on Wednesday that he needed to speak with his colleagues.
Instead, McKay stood aside on Friday afternoon, likely paving the way for Minns to assume the leadership.
"Leadership must almost always be about the institution, and how you respond to successes and difficulties," McKay said on Friday.
"Leadership is also about knowing when you step up, and when you step down."
The NSW Labor did not immediately respond to a request for comment.