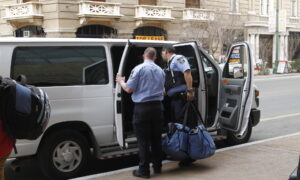 The Biden Administration on Friday said families arriving between ports of entry at the U.S. southern border will have their asylum cases fast-tracked in immigration courts in 10 specific cities around the nation.
"Under this new process, certain recently arrived families may be placed on the Dedicated Docket. Families may qualify if they are apprehended between ports of entry on or after Friday, May 28, 2021, placed in removal proceedings, and enrolled in Alternatives to Detention," a Friday press statement states. The Department of Homeland Security (DHS), in conjunction with the Department of Justice (DOJ) Executive Office for Immigration Review (EOIR), will make legal services available pro bono.
The DOJ and DHS said in a joint statement that the plan includes processing families through expedited immigration court dockets where the judge will decide whether these illegal immigrants can remain in the United States. The federal agencies have determined that immigration judges in 10 cities will decide the merit of these asylum cases within 300 days.
"The mission of the Department of Justice's immigration courts is to decide the cases that come before them promptly and fairly," said Attorney General Merrick B. Garland. "This new program for certain newly arriving families will help achieve that critically important goal."
The 10 cities where EOIR will be processing the asylum seekers include Denver, Detroit, El Paso, Los Angeles, Miami, Newark, New York City, San Diego, San Francisco, and Seattle.
The Biden administration has continued a Trump-era public health policy known as Title 42. This directive allows the United States to expel illegal immigrant adults and families without allowing them to seek asylum. But most families who have entered U.S. border custody in the past three months have been allowed to stay, pending the adjudication of their asylum claims.
In April, more than 178,000 people were stopped at the U.S.–Mexico border, marking a 21-year high in monthly apprehensions, according to figures published by Customs and Border Protection (CBP). According to the CBP website, the U.S. continues to "expel single adults and family units that are encountered under Title 42 authority; 62.5 percent of total encounters resulted in a Title 42 expulsion for the month."
Currently, according to EOIR data, there are over 1.2 million asylum cases pending in the immigration courts. The goal of the new procedure is to decrease the amount of time it takes for cases to be adjudicated.
"Families arriving at the border who are placed in immigration proceedings should have their cases decided in an orderly, efficient, and fair manner," said Secretary of Homeland Security Alejandro Mayorkas. "Families who have recently arrived should not languish in a multi-year backlog; today's announcement is an important step for both justice and border security."