Secretary of State Antony Blinken condemned both Beijing and the Hong Kong government after a controversial electoral reform bill was passed by the Chinese-ruled city's legislature on May 27.
The bill, passed by a margin of 40 to 2, was passed in a rather empty chamber of the 70-seat Hong Kong Legislative Council (LegCo)—with only 43 legislators in attendance to cast a vote. Beijing disqualified some opposition pro-democracy lawmakers last year and many others resigned in protest.
Many of the electoral changes were announced in March, when the standing committee of China's rubber-stamp legislature, the National People Congress, passed by a unanimous vote a plan to overhaul Hong Kong's electoral system.
The Chinese government continues to dismantle the democratic institutions of Hong Kong, including the Legislative Council. We stand with the people of Hong Kong, whose will the People's Republic of China is attempting to subvert. #StandWithHongKong

— Secretary Antony Blinken (@SecBlinken) May 27, 2021
Before the electoral reform, 35 LegCo seats were directly elected by Hong Kong voters. Now, that number has been slashed to 20. The 70-seat LegCo is now expanded to 90 seats, but 40 of them are to be selected by an existing pro-Beijing election committee. The committee already has an existing role in electing the city's chief executive—a position currently held by pro-Beijing leader Carrie Lam.
What's more, candidates who want to run for a LegCo seat must be nominated by the election committee. They will also be vetted by a screening committee that can bar those that are determined not "patriotic" to the Chinese regime. Finally, candidates will also be subjected to background checks by Hong Kong's national security department—which was established under the city's draconian national security law.
"The Chinese government continues to undermine the democratic institutions of Hong Kong, denying Hong Kong residents the rights that the People's Republic of China (PRC) itself has guaranteed," Blinken stated according to a May 27 statement.
Blinken said the electoral reform "severely constrains people in Hong Kong from meaningfully participating in their own governance and having their voices heard." 
"This legislation defies the Basic Law's clear acknowledgment that the ultimate objective is the election of all members of the LegCo by universal suffrage," Blinken added.
Articles 45 and 68 of Hong Kong's Basic Law—the city's mini-constitution that was drafted under the Sino-British Joint Declaration in 1984, which paved the way for Hong Kong's handover to China in 1997—stated that universal suffrage is the "ultimate aim" for choosing LegCo members and the chief executive.
"We once again call on the PRC and the Hong Kong authorities to allow the voices of all Hong Kongers to be heard," Blinken stated. "Decreasing Hong Kong residents' electoral representation will not foster long-term political and social stability for Hong Kong."
Blinken also called on the Beijing and the Hong Kong government to "release and drop charges against all individuals charged under the National Security Law and other laws merely for standing for election or for expressing dissenting views."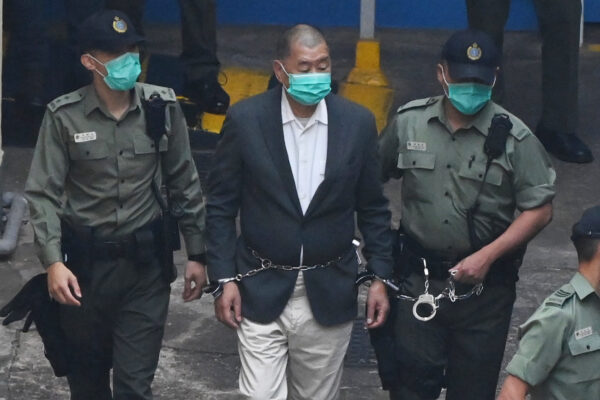 On Feb. 28, Hong Kong Police charged 47 pro-democracy pro-democracy activists with subversion, a crime under the national security law that can draw life imprisonment if convicted.
One of the most prominent pro-democracy figures to be charged under the national security law is Jimmy Lai, who is also the owner of local paper Apple Daily. Lai was given a new prison sentence of 14 months on May 28 for taking part in an unauthorized assembly on Oct. 1, 2019. Lai is already in prison serving previous sentences totaling 14 months for participating in two August 2019 marches.
Lo Kin-hei, chairman of the opposition Democratic Party, said that the electoral reforms would surely be a disappointment to democracy-supporting Hongkongers, according to the party's Facebook page. Lo added that talks will be held within the party to decide what roles the party should play moving forward in the face of a "difficult political environment."
He said the party has not decided on whether to take part in the next LegCo elections, currently scheduled for Dec. 19.
Benedict Rogers, co-founder and chief executive of London-based NGO Hong Kong Watch, took to Twitter to say that the Chinese Communist Party (CCP) has "destroyed whatever was left of democracy" in Hong Kong with the electoral reform.
"The [Hong Kong's] Legislative Council is now simply a local subsidiary of the National People's Congress, a puppet zombie legislature," Rogers wrote.