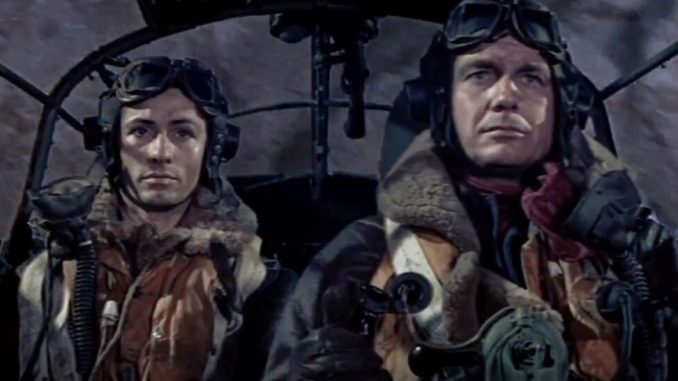 Not Rated | 1h 42min | Drama, War | 1964
The year is 1944 and World War II has reached a fevered pitch. Although the Germans have already been defeated by the Allies in North Africa and things are going poorly for them in Italy, the Axis still controls much of Europe.
The ever-resourceful British have come to rely on their twin-engine Royal Air Force (RAF) de Havilland DH.98 Mosquito aircraft to carry out bombing missions against the Axis with the hopes of tipping the scales of war in their favor. Although these so-called Wooden Wonders (they were composed almost entirely of wood) had only been in service a few years, they'd more than proven their reliability and effectiveness.
A Dangerous Mission
Director Walter Grauman's rousing extravaganza "663 Squadron" covers the exploits of these aerodynamic wonders (among the fastest aircraft of their time) and of their pilots. In straightforward text at the beginning of the film, we read: "This story is inspired by the exploits of the Royal Air Force and Commonwealth Mosquito air crews during World War II."
The film kicks off into high gear as Norwegian resistance leader Lt. Erik Bergman (George Chakiris, "West Side Story") and his men ambush a contingent of Germans in Nazi-occupied Norway. Bergman then travels to the UK in order to divulge the whereabouts of a secret German V-2 rocket fuel plant to Air Vice Marshal Davis (Harry Andrews).
Davis then tasks Wing Commander Roy Grant (Cliff Robertson), an American veteran of the Eagle Squadron (the RAF's U.S. volunteer contingent), who leads a motley crew of British Mosquito bomber pilots, to carry out a do-or-die mission and take out the German installation.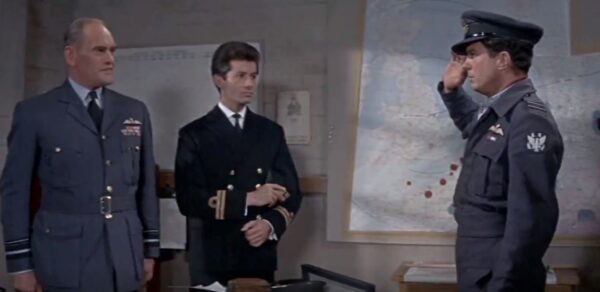 Since the V-2 rockets were a powerful, long-range weapon that Hitler intended to launch against England and other Allied countries, destroying the facility would save many lives, both military and civilian alike. Grant remarks that his men are weary from their recent air sorties, but since his unit, the 633 Squadron, is so effective, he accepts the mission anyway.
During the mission briefing, it is revealed that the Germans have made the V-2 fuel plant extremely difficult to assault. It not only lies at the end of a narrow fjord studded with flak (anti-aircraft artillery) north of Bergen, but it's also virtually impregnable to conventional bombs. Grant is told that the only way to take it out of operation is to bomb the entire cliff overhanging the plant, thereby entombing it under tons of rubble.
Soon, the good ol' 633 Squadron is off to Scotland, where it trains for the mission by maneuvering nimble Mosquitoes through the narrow glens located therein. During a night of raucous boozing at a local pub, Bergman introduces his sister, Hilde (Maria Perschy), to Grant and there's a hint of a romance.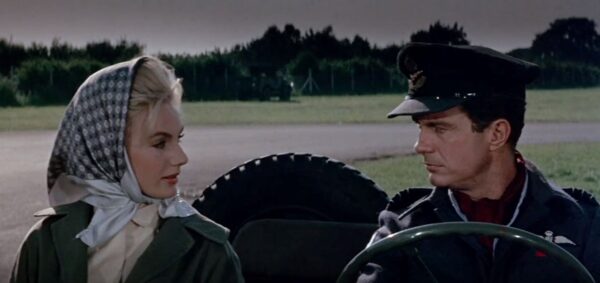 The secret Allied mission is to be a two-pronged attack: The Norwegian resistance will conduct an initial assault to disable the anti-air guns in the fjord, followed up by a pinpoint bombing run by Grant and his flyboys on the V-2 fuel installation.
Things quickly go sideways when a large contingent of German soldiers shows up and forces Bergman to return to Norway in order to bolster his forces. However, Bergman gets captured by the Germans and taken to Gestapo headquarters. There, he is relentlessly tortured for information.
Will Grant be able to save his friend and fellow Nazi killer, Bergman, or will he have to take more drastic measures to ensure that no intelligence is leaked? Will the entire mission become jeopardized because of this issue, along with other setbacks?
Sights and Sounds
Composer Ron Goodwin's spirited score matches the peppy pace of the unfolding action. These rousing melodies pair nicely with the outstanding cinematography by Edward Scaife (1967's "The Dirty Dozen"). The aerial combat scenes are outstanding, and the film crew used a combination of vintage Mosquitos as well as models of the famous aircraft, used mainly in scenes in which they are destroyed.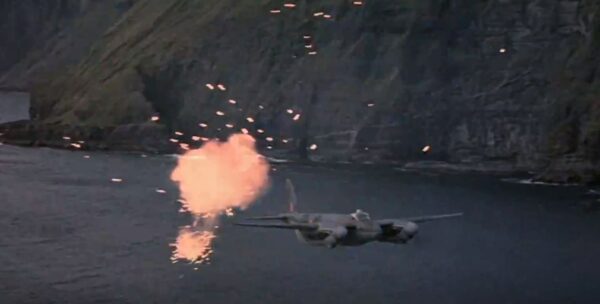 In all, this is a fine World War II film that showcases that the Allied war effort was truly an international affair. Robertson's acting is superlative as ever, while Chakiris's performance is surprisingly capable and understated, showing that he was more than just a pretty face in his prime.
"663 Squadron" is a well-paced and highly entertaining tribute to all the men who designed, built, and flew the remarkable RAF de Havilland DH.98 Mosquito in combat against the German Empire during World War II.
'663 Squadron'
Director: Walter Grauman
Starring: Cliff Robertson, George Chakiris, Maria Perschy
Not Rated
Running Time: 1 hour, 42 minutes
Release Date: 1964
Rated: 4.5 stars out of 5

Ian Kane is a filmmaker and author based out of Los Angeles. To learn more, visit DreamFlightEnt.com or contact him at Twitter.com/ImIanKane