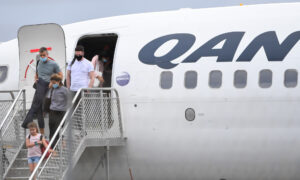 Qantas has flagged a scheme to incentivise Australians to get vaccinated against COVID-19, the disease caused by the CCP virus, so the airline can operate more flights.
The national carrier is eager for state and international borders to reopen and is counting on vaccines to help with that.
"As a large company that relies on travel to put our people and planes back to work, we're obviously motivated to help with the national vaccine effort," Qantas customer officer Stephanie Tully said on Friday.
Enticing travellers with vouchers and credits may form part of a strategy to reward those who've had the jab.
"We're still thinking through how this would work, but the incentive could be Qantas points, Qantas or Jetstar flight vouchers, or status credits for frequent flyers."
The national carrier is expected to offer about 1,000 Qantas points to people who get vaccinated, which equates to between $20 to $25 in value.
"Qantas is a big supporter of Australia's vaccine rollout because of what it means for public health, but also because it's the key to keeping our domestic borders open and safely restarting international travel as well," Tully said.
This comes after Virgin Australia CEO Jayne Hrdlicka said on May 17 that Australia needed to open its borders once an appropriate rate of vaccination is achieved, for the sake of the economy and health, arguing that otherwise, Australians would be "sicker than we ever have been in the past because we're not exposed to the viruses and challenges that the rest of the world is dealing with."
"It will make us sick but won't put us into hospital. Some people may die, but it will be way smaller than the flu," she said.
Hrdlicka's comments came after Prime Minister Scott Morrison said he wants to see fully vaccinated people not be subject to any domestic CCP virus restrictions put in place by state and territory governments as part of a roadmap to more travel freedoms.
This week Qantas predicted that its capacity would exceed 100 percent of pre-COVID levels in the coming months after adding seven new domestic routes between major Australian capital cities as domestic demand increases following the pandemic slump.
Qantas Domestic and International CEO Andrew David said the new routes would help support the growing demand for domestic tourism.
"As most international travel remains off-limits for now, Australians are taking more regular holidays within the country, and we expect these new direct flights to key tourism destinations will be popular with travellers," David said in a statement on Tuesday.
"Our customers now have 45 more routes to fly than we had pre-COVID, making it even easier for them to get to their next holiday or business meeting.
Passengers will also be able to fly on more widebody aircraft, usually only available on international long haul flights, between major cities, with the option of business suite between east coast capital cities and Perth and Darwin.
The Airbus A330-200 aircraft, which used to fly international routes to and from Asia, will operate on more routes from Sydney and Brisbane into Darwin and Sydney and Melbourne into Perth.
Meanwhile, Embraer E190 regional jets will service five of the new routes in partnership with Alliance Airlines.
AAP contributed to this report.