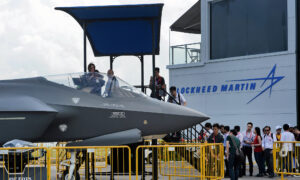 Lockheed Martin, the aerospace and defense giant known for developing America's next-generation warplanes, sent its executive-level employees to learn about privileges they supposedly have as white straight males, a new report says.
The three-day training session, hosted on Zoom last June for a 13-member "White Men's Caucus," started with a "free association" in which the term "white men" was associated with "old," "racist," "privileged," "anti-women," "angry," "guilty," "Aryan Nation," and "KKK," according to documents obtained by City Journal's Christopher Rufo.
The 13 participants reportedly included Glenn David Woods, the vice president of production at Lockheed for the Air Force's $1.7 trillion F-35 fighter jet program; Aaron Huckaby, director of global supply chain operations; Ret. Air Force Lt. Col. David Starr, director of the Hercules C-130 transport aircraft program; and Ret. Air Force Lt. Gen. Bruce Litchfield, vice president of sustainment operations.
In another session, the Lockheed employees were asked to recite a series of "white privilege statements" that supposedly described privileges they possess but are not necessarily aware of, including: "My culture teaches me to minimize the perspectives and powers of people of other races" and "I can commit acts of terrorism, violence or crime and not have it attributed to my race."
The trainer then reportedly led the employees to recite a set of "male privilege statements," followed by "heterosexual privilege statements," such as "My reproductive organs are not seen as the property of other men, the government, and/or even strangers because of my gender," and "I can have friendships with or work around children without being accused of recruiting or molesting them."
The final phase of the training involved reciting a list called "I'm tired phrases," which hypothetically represented what those who are not white, straight, or male would like to say. On the list were statements like "I'm tired of being 'black,'" "I'm tired of the assumption that I won't tip at restaurants," "I'm tired of hearing about how we need a wall at the southern borders but not on the northern borders."
The training was reportedly led by the consulting firm White Men As Full Diversity Partners (WMFDP), which describes itself as specialized in helping white male business leaders "challenge their mindsets" and "build culturally competent leadership teams." Some high-profile clients of the WMFDP include AT&T, Coca-Cola, Dell, ExxonMobil, and NASA, according to the organization's website.
"When companies engage white males alongside their peers from different backgrounds, marginalized groups are freed from the exhausting work of coaching white men to understand their world," the WMFDP website reads. "Most white men want to help. They just don't know how."
In a statement released shortly after Rufo published his report, a Lockheed spokesperson said the company "has robust employee training programs focused on our core values of doing what is right, respecting others, and performing with excellence."
"Like many corporations, we employ multiple vendors and continuously evaluate the effectiveness of training programs to ensure they are aligned with our values, applicable laws, and regulations, and incorporate employee feedback and best practices," the statement reads.
The controversy around race-centered training gained national attention in 2020, when President Donald Trump banned the use of training materials based on "divisive and harmful sex and race-based ideologies" in federal agencies and federal contractors like Lockheed Martin. President Joe Biden removed the ban upon his inauguration, instead issuing an order stating that his administration would pursue "a comprehensive approach to advancing equity for all."