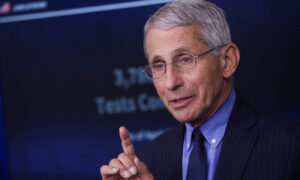 Anthony Fauci is supposed to be the leading expert on infectious disease in America, and he is also the highest-paid public official, making $417,000 per year—more than the president—yet his flip flops on the pandemic have rendered him ineffective and incompetent. We explore his greatest hits, or rather his lowest lows, and his possible culpability.
Watch the full episode on YouTube: https://youtu.be/6qtTzkpbAmk
Hosted by the two-time Emmy-nominated actor and singer-songwriter Beau Davidson, The Beau Show addresses issues affecting everyone and invites conversation and critical thinking, normally unseen in mainstream media.
The Beau Show is an NTD show available on YouTube and NTD website.