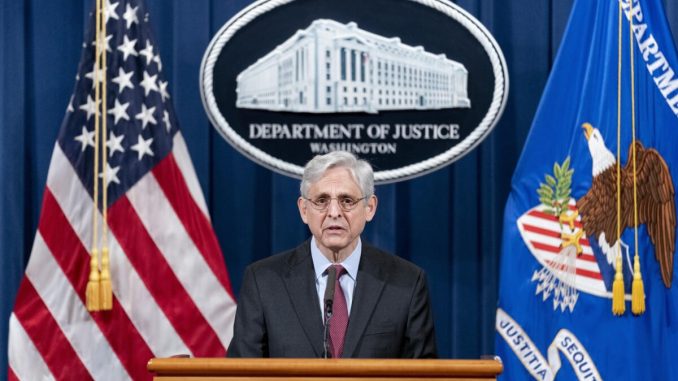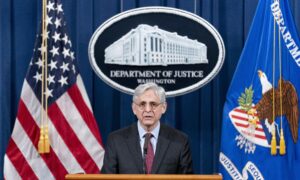 Attorney General Merrick Garland on Wednesday unveiled a new three-pronged initiative aimed at combating the surge of violent crime in several U.S. cities in the wake of George Floyd's death last summer.
Garland's strategy consists of directing the Justice Department's 94 U.S. attorney's offices to adopt a set of principles aimed at improving the department's approach to reducing violent crime, such as improving community relations and investing in prevention programs.
The initiative will also require U.S. attorney's offices to work closely with state, local, federal, tribal, and community partners to address violent crimes seen over the summer such as murders, shootings, and robberies. The current Project Safe Neighborhoods (PSN) program will also be updated.
"Today, we renew our commitment to reducing violent crime and building strong communities where all Americans are safe," Garland said in a statement.
"The deputy attorney general is issuing a comprehensive strategy to deploy our federal resources in the most effective way, disrupting the most dangerous threats and supporting the ground-level efforts of local law enforcement," he said.
His announcement comes as multiple cities saw an uptick in violent crimes, including homicides, in the past year, coinciding with the Black Lives Matter and "defund the police" protests. Data compiled by analyst Jeff Asher who studied crime rates in more than 50 cities found that Chicago saw nearly 750 murders in 2020, which is about 55 percent more than 2019. Los Angeles saw 343 homicides which was a 33 percent jump from 2019, while New York saw 437 murders, which is a 39 percent jump from the year before.
In an effort to address the uptick, the Trump administration introduced Operation Legend which sought to drive down violent crime by surging federal agents and resources to inner cities. A priority of the operation was to crackdown on firearm crimes. That initiative led to over 6,000 arrests and seizures of 2,600 firearms and large amounts of illicit drugs, according to an update in December.
It is not immediately clear how Garland's initiative will compare with Operation Legend, given that both measures sought to reduce violent crime.
Garland's initiative will also augment further resources to state and local law enforcement efforts from the FBI, Bureau of Alcohol, Tobacco, Firearms, and Explosives, the Drug Enforcement Administration, and the United States Marshals Service.
The department will also provide grants that will highlight community programs targeting gun violence, sharing information about community-violence intervention programs, and provide training and technical assistance to support the violent crime reduction work.
"In this endeavor, we will engage our communities as critical partners. And through our grantmaking, we will support programming at all stages—from the earliest violence interruption strategies to post-conviction reentry services," Garland said.