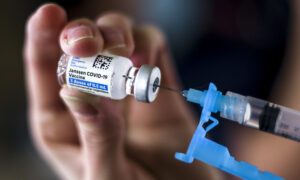 Colorado on Tuesday became the latest state to roll out a lottery program to encourage residents to get vaccinated against COVID-19.
Five randomly selected Coloradans above the age of 18 who have received at least one dose of the vaccine by the end of June will be selected to win $1 million each, Gov. Jared Polis announced.
One winner will be chosen at random every week beginning June 4, Polis said, noting that to be eligible for the first drawing, people must have received at least one dose of the COVID-19 vaccine by June 1.
The last drawing will be held on July 7, and Coloradans must receive their shot by June 30 to qualify for that particular week.
The lottery is being conducted in partnership with the Colorado Department of Public Health and Environment, and names will be selected from records contained in the Colorado Immunization Information System. It will be funded by existing federal pandemic relief funds.
"If you have been delaying plans to get vaccinated or are still on the fence, now is the time to swing big. It could transform your life," the governor said in a statement. "Buy a new home. Take that vacation. Take six months off. Do whatever you like. $1 million goes a long way."
Younger Coloradans will also have the chance to participate in a scholarship program, Polis said.
The announcement comes after the COVID-19 vaccination rate in the state of Ohio surged after Gov. Mike DeWine said that five residents will win $1 million each as a monetary incentive for getting inoculated.
DeWine also announced a separate incentive for younger Ohio residents, which will see five vaccinated 12- to 17-year-old students receive full four-year scholarships to attend Ohio public universities, including tuition, room, board, and books.
Such incentive programs come as demand for COVID-19 vaccines in the state—and nationwide—has dwindled, in part following an 11-day pause in administering the single-dose Johnson & Johnson shot, as federal health authorities investigated reports of potentially dangerous blood clots.
The Centers for Disease Control and Prevention and the U.S. Food and Drug Administration on April 24 recommended that the distribution of the vaccine continue but with warnings.
New York and Maryland on May 20 also announced that they will be rolling out similar vaccine incentive programs.
The Biden administration meanwhile is figuring out new ways to motivate more people to get vaccinated. The White House on May 11 said that people traveling to get their shots will get free or discounted ride shares.
Companies have also started offering incentives as part of an effort to encourage Americans to get vaccinated. For example, Krispy Kreme stores are offering one free glazed doughnut for people who show that they have had one or two shots of any COVID-19 vaccine.