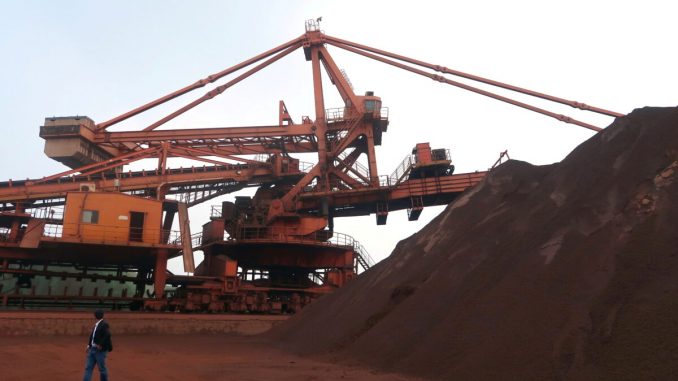 Australian exports reached a historic high of $36 billion (US$28 billion) in April on the back of skyrocketing iron ore prices.
Preliminary monthly trade data from the Australian Bureau of Statistics (ABS) also reveals that Australia's trade goods surplus rose to $10.1 billion (US$7.9 billion), the third-highest on record.
"Exports remained steady, increasing $12.6 million in April, but imports fell $1.9 billion, adding to the already strong surplus recorded in March 2021," ABS Head of International Statistics Andrew Tomadini said. "The continued strength of metalliferous ores has contributed to total exports for April 2021 reaching a record-high $36 billion."
Metalliferous ore exports, which includes iron ore, increased by 1 percent from March, reaching a historic high of $16.5 billion.
ANZ head of Australian economics David Plank expects the gross domestic product to have more mild movements in the March quarter than the previous quarters, which recorded big rises after restrictions began to ease.
"If we do get a figure some way above 1 per cent, subject to revisions, then we will be able to say GDP has recovered to pre-COVID levels. That's certainly our expectation," Plank told The Australian Financial Review.
Other notable shifts include an 8 percent increase in coal, a 31 percent increase in petroleum, and a 55 percent increase in medicinal and pharmaceutical products.
Indian demand for Australian coal has also steadily increased since mid-2020, rising by 167 percent during April.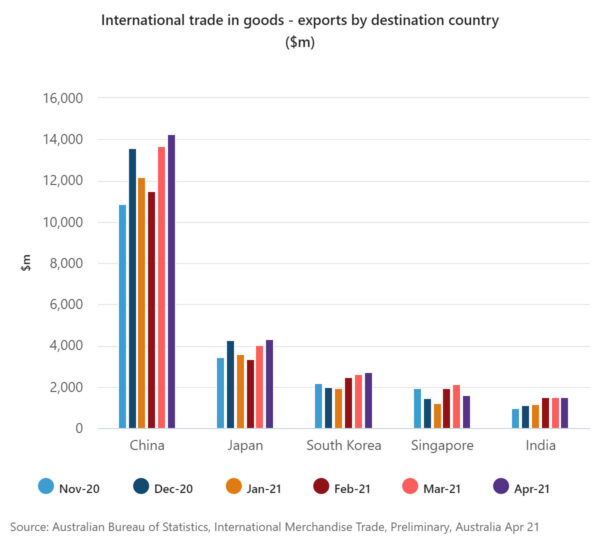 Despite Beijing's ongoing economic coercion campaign, goods exports to China increase by 4 percent on the back of gold and iron ore exports.
Iron ore prices hit as high as $230 per tonne, but it has since begun falling as China diversifies away from Australia by turning to African mines. According to Commonwealth Securities, iron ore has fluctuated up to $191.65 per tonne today.
Industries hit by trade sanctions, such as coal, wine, barley, beef, and many more, have largely recovered as they have scrambled to diversify their export destinations.
Wine exports were also able to recover by turning to European and American markets after its Chinese demand fell by 96 percent.
"For the moment, Beijing's bark is worse than its bite," Lowy Institute economist Roland Rajah told the Financial Times.
"Exports to China have collapsed in the areas hit by sanctions, but most of this lost trade seems to have found other markets."
Meanwhile, Australian imports dropped, with the highest falls from the United States and the United Kingdom. However, the highest import drop for the past 12 months is from Japan, followed by Malaysia then Germany.