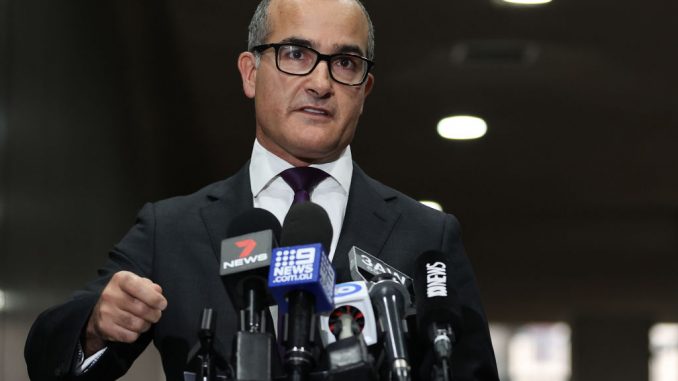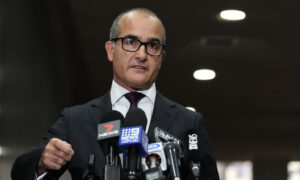 The Victorian government has imposed a seven-day state-wide lockdown starting at midnight Thursday after 26 new CCP virus cases emerged from a cluster which is believed to be the Indian variant and linked to South Australian quarantine.
The restrictions mean people can leave their homes for only five reasons: shopping for food, attending authorised work or study, exercising (with one other person), providing care, and getting vaccinated.
The 5km travel limit will also be reimposed for exercise and shopping, as will compulsory use of masks indoors and outdoors.
All non-essential retail will close but essential stores including supermarkets, bottle shops and pharmacies will remain open.
Cafes and restaurants will only be able to offer take-away.
Childcare and kinder will stay open, but schools will close.
Professional sports events such as the weekend's AFL games in Melbourne will continue, but without crowds.
Acting Premier James Merlino told reporters on Thursday the Indian variant was "running faster than we have ever recorded," with the time of transmission between contracting the virus and passing it on being only one day—compared to a five-day period previously experienced in other variants.
"The time between catching the virus and passing it on is faster than ever," Merlino said and encouraged people to get vaccinated.
He said Victoria might not be facing another lockdown had the federal government's vaccination rollout happened properly.
As of Thursday, there were now 34 active cases in Victoria, with 12 new cases linked to the South Australian hotel quarantine breach. One case is on a ventilator in ICU.
The state's contact tracers have identified more than 10,000 primary or secondary contacts who will need to isolate.
Victoria has also expanded vaccination eligibility from today to people aged 40-49.
"If you are eligible to get vaccinated, make yourself a plan to do that today, to get it done," the state's health minister said.
State officials met Wednesday night and again Thursday to determine the duration and extent of the lockdown.
So far, more than 70 exposure sites have been confirmed, with nine new locations reported overnight, including at places like football venues and nightclubs.
The lockdown comes after Victorian officials on Wednesday recorded 15 cases of COVID-19, the disease caused by the CCP (Chinese Communist Party) virus.
The new cases were linked to the Whittlesea cluster in Melbourne's north, with more than 250 primary close contacts linked to over 70 exposure sites—from suburban Melbourne, to Bendigo and Cohuna in northern Victoria near the NSW border.
In response, the federal government promised additional support for Victoria, including 130,000 extra doses of the Astra Zeneca vaccine.
Genomic sequencing showed the outbreak is linked to a Wollert man who contracted the Indian variant of COVID-19 in South Australian quarantine earlier this month.
The man, in his 60s, could be the possible "source case" of the Whittlesea outbreak, although a definitive link is yet to be established. An open door at the Adelaide quarantine hotel has been identified as the likely source of transmission.
Prior to the lockdown, Victoria had on Tuesday at 6 p.m. reinstated restrictions in response to the Whittlesea outbreak. Those in Greater Melbourne must wear a face mask indoors. Private home gatherings are limited to five visitors per day, while public gatherings have been reduced to 30.
Labor Blames Morrison Govt for Hotel Quarantine Breaches
National Labor's Opposition health spokesman Mark Butler has blamed the federal government for the breach, despite hotel quarantine being managed by state and territory officials.
"This is the 17th outbreak from hotel quarantine in just the last six months," Butler told ABC radio on Thursday.
"Experts advised the prime minister to put in place dedicated fit-for-purpose facilities to take the pressure off hotels that were built for tourism, not medical quarantine," he added.
Victoria last entered a five-day "circuit breaker" lockdown in February, when the virus escaped hotel quarantine and infected 13 people. This came after the state imposed a lockdown last year that lasted over 100 days, after another failure in the state's hotel quarantine system.
That lengthy lockdown had subjected Victorians to a "living hell," Liberal Democrats MP David Limbrick State told Victoria's Parliament in September 2020.
He said he received harrowing calls from hundreds of people, including one who said they liquidated their business to put food on the table, nearly lost their house, and lost two friends from suicide in the space of one week.
Others described accounts of a grandmother who was banned from visiting her first grandchild, a child who had stopped talking, people so depressed they cannot leave their houses, a schoolchild so depressed they refused to eat, and a woman afraid that her son was a suicide risk.
The volume of calls was so great Limbrick advised his staff to take a break for their own well-being.
States Respond to Victoria Outbreak
In response to the Victorian outbreak, South Australia will not allow people to cross the border if they have been in Melbourne, except for its residents and essential workers.
Returning South Australians must get three virus tests and isolate for 14 days.
Anybody from Melbourne who travelled to South Australia in recent days must also get tested and isolate until they receive a negative result.
In Perth, testing is being imposed on Victorian arrivals.
Queensland has asked its residents to reconsider all travel to Victoria, especially Melbourne, and anyone who has been in the City of Whittlesea since May 11 will be refused entry. All arrivals from Victoria will need to complete a border pass.
NSW is asking any Melbourne and Bendigo arrivals to fill out a travel declaration form confirming they have not visited any venues of concern.
Tasmania, the ACT, and Northern Territory have also imposed conditions on travellers, while New Zealand's travel bubble suspension with Melbourne continues.
AAP contributed to this report.