Attorneys General in 22 states have called on the U.S. Senate to oppose David Chipman's confirmation as director of the Department of Justice's Bureau of Alcohol, Tobacco, Firearms, and Explosives (ATF), citing the efforts of the president's nominee to restrict second amendment rights.
Montana's Attorney General (AG) Austin Knudsen led 21 of his colleagues in sending a letter to the U.S. Senate making a case against Chipman's confirmation.
"The Second Amendment is the cornerstone of the Bill of Rights," the AGs wrote. "It guarantees our natural God-given right to defend our lives, our families, our property, and our freedom. The confirmation of David Chipman to head the Department of Justice's Bureau of Alcohol, Tobacco, Firearms, and Explosives is an attack on that right and on the millions of law-abiding gun owners across the country."
The AGs wrote that the right to bear arms in their states is more than just a hobby or sport. For those who live in rural areas, they are a part of the economy, often used to protect livestock, they said. They are also used by their constituents to hunt and protect their families if law enforcement does not arrive in time.
"This is why Mr. Chipman's past affiliation with anti-gun organizations and his extreme positions on commonly owned firearms is so concerning to us as attorneys general and why he is unfit to be confirmed as head of the ATF," wrote the group.
Chipman was an ATF special agent who monitored trafficked firearms for 25 years. He then became a senior policy advisor advocating for gun control at the Giffords Law Center to Prevent Gun Violence as well as a lobbyist.
During Chipman's confirmation hearing before the Senate Judiciary Committee on Wednesday, Republican members grilled him for his past comments and gun control advocacy.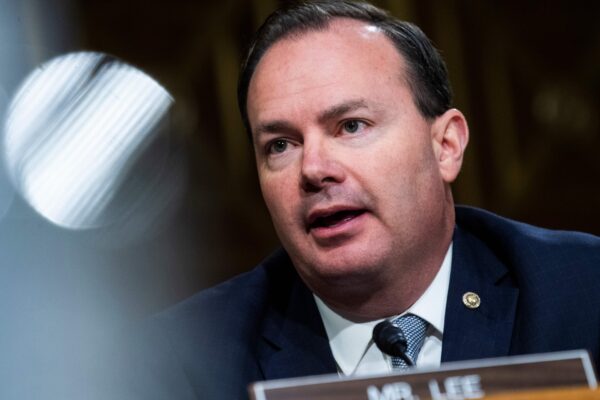 Sen. Mike Lee (R-Utah) questioned Chipman about his "aggressive" and "reckless" opposition to legislation Lee had introduced to make it easier to buy gun silencers. Lee said there were "legitimate medical reasons" for gun owners to want to buy silencers to protect their hearing.
"You said, 'The only people who benefit from this bill are gun lobbyists and criminals who want easier access to deadly weapons,'" Lee said, quoting Chipman. "How does this reflect the careful, measured judgment of one who would be in charge of enforcing our nation's gun laws?"
Meanwhile, the AGs wrote that because of the important role of the ATF director, "Its agents deserve a director who will inspire confidence from the people they serve. Given Mr. Chipman's history of anti-gun lobbying and political activism, Americans cannot be reasonably expected to believe he will be an unbiased enforcer of current laws."
Earlier in May, Rep. Andy Biggs (R-Ariz.) also voiced his opposition to Chipman's nomination as head of the ATF during a May 20 hearing on gun control sponsored by the House Subcommittee on Crime, Terrorism, and Homeland Security.
"Since Mr. Chipman left ATF in 2012, he's made his money lobbying for failed gun control policies, first for Michael Bloomberg, the for the Gifford's Law Center," said ranking member Biggs. "The job of the ATF director is to enforce the laws that Congress passes … not to promote failed gun policies."
Sen. Ben Sasse (R-Neb.) formally opposed Chipman's nomination in an April statement, saying that Chipman was a "gun control zealot" who in his former capacities undermined citizens' second amendment right.
"President Biden's ATF nominee, David Chipman, has a long record of embracing far-left gun controls. He wants to ban some of the most popular rifles for home defense and he's scoffed at the idea that law-abiding Americans want to protect their families," Sasse said.
The AGs concluded their letter by asking the senators to oppose Chipman's nomination, saying that they "demand President Biden nominate someone who is not hostile to our rights and way of life."