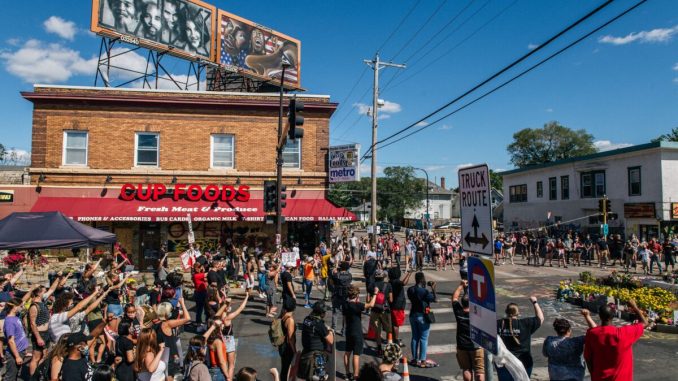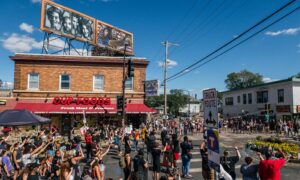 Witnesses and journalists at the intersection where George Floyd died exactly one year ago reported dozens of gunshots, prompting them to shelter in place.
According to The Associated Press, there were no reports of injuries at the corner of 38th and Chicago streets, which is unofficially called "George Floyd Square" and features a makeshift memorial.
"We heard a few dozens sounds of what appear to have been shots fired on this block," tweeted Philip Crowther, an AP reporter. "Everyone sheltered in place. Lots of running. No apparent need for medics. Will update."
Crowther noted that a storefront window was apparently hit with gunshots.
"Consensus among reporters here at George Floyd Square was that we heard anywhere between a dozen and two dozen shots fired," Crowther also wrote, as he posted a video of people sheltering in place after the shots were reportedly fired.
"Very quickly things got back to normal," he said in the AP report. "People here who spend a significant amount of time, the organizers, were running around asking, 'Does anyone need a medic?' It seems like there are no injuries."
According to Fox News reporter Garrett Tenney, the incident "sounded like an exchange of gunfire with around 10 shots," prompting his crew to evacuate the area.
A Los Angeles Times reporter, Molly Hennessy-Fiske, confirmed the shots.
"One volley, then two, then three. Many bystanders. People couldn't tell if it was fireworks at first. It was right in the square," she tweeted.
Floyd died in police custody on May 25, 2020, sparking protests, riots, and arson attacks in Minneapolis—and later across the United States. Last month, fired officer Derek Chauvin was found guilty on three counts, including second-degree murder.
Earlier this month, video footage appeared to show a man wielding an ax trying to destroy the makeshift memorial for Floyd before fleeing the scene.
After Floyd's death, the intersection has seen Black Lives Matter protesters and organizers congregate.
Some have criticized it as being akin to a so-called "autonomous zone," similar to the Capitol Hill Occupied Protest—or Capitol Hill Autonomous Zone—that was set up in Seattle last summer. In one instance last year, a 16-year-old boy was shot and killed in CHOP, leading to the zone's eventual dissolution.
Similar autonomous zone-like areas were set up last year by Antifa types and activists in Portland, Oregon. One was also set up, albeit briefly, in Washington, D.C. last summer near Capitol Hill.
The Epoch Times has contacted the Minneapolis Police Department for comment.