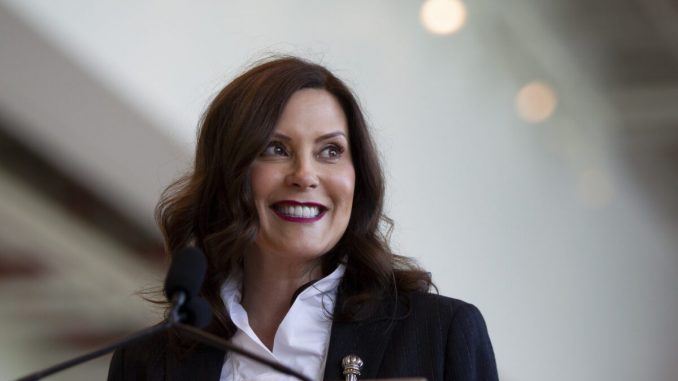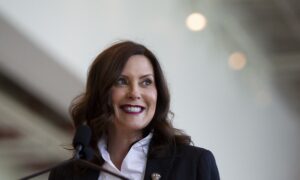 Michigan Gov. Gretchen Whitmer's administration on Monday rescinded a rule capping restaurant parties at six persons, two days after she was caught violating the restriction.
The Michigan Department of Health & Human Services released a new order that does not include the provision, which barred groups of more than six at a table in establishments that serve food or drinks.
"Consumption of food or beverages is permitted only where patrons are seated, groups of patrons are separated by at least 6 feet, no more than 6 patrons are seated at a table, and groups of patrons do not intermingle," the May 15 order stated. The new order, which goes into effect on June 1, does not contain the language.
Whitmer, a Democrat in her first term, said Sunday that she "made a mistake" when gathering with about a dozen others in a crowded bar in Lansing, violating the state's rule on indoor gatherings.
"It was an honest mistake and I have apologized for it," she told reporters in a briefing on Monday.
Whitmer previously announced that the order, which deals with masks and capacity limits, would be altered on June 1, but did not specify which changes would be made.
On July 1, Whitmer plans on lifting entirely limits on indoor gatherings and mandates on wearing masks.
The rollbacks stem from improving COVID-19 metrics, such as lower cases and hospitalizations, officials have said.
"I'm excited about this. I know we're all excited to spend time this summer with our families and friends and get back to the things that we love doing. Long dinners, bonfires by the lake, maybe even taking in a concert with friends. And we can enjoy the occasions and ceremonies that we had to forego last year, celebrating birthdays and graduations, family reunions and weddings together," Whitmer told reporters in a briefing on Monday.
Whitmer also announced that the state's Occupational Safety and Health Administration was easing its COVID-19 emergency rules because the state reached the threshold of 55 percent of the population being vaccinated against the CCP (Chinese Communist Party) virus, which causes COVID-19.
The governor said she did not think the Landshark Bar & Grill, where she broke the state's rules, should be fined by state authorities.
"I think that we have specifically not gone forward and penalized businesses that are trying to do the right thing. It's those that have flouted and put people's safety at risk that are the most concerning," she said.
Eric Ventimiglia, executive director of Michigan Rising Action, a group that seeks to hold liberal groups and individuals accountable, told The Epoch Times that Whitmer should immediately lift all of the COVID-19 related orders immediately.
He also called on the governor to rescind violations and refund fines paid by people and businesses accused of violating COVID-19 orders.
"We also think that she should pardon those that have been fined and accused of similar offenses … and refund all the fines," he said.