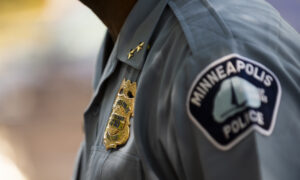 Two police unions are asking the University of Minnesota to investigate a student leader who appeared to have encouraged her peers to harass police officers on campus by making false emergency calls.
In a video clip of an executive board meeting of the Minnesota Student Association, ranking member Lauren Meyers was asked by another student what exactly she meant when she said "disrupting UMPD," the University of Minnesota Police Department.
"Make their lives hell. Annoy the [explicit] out of them," Meyers responded. "Like, use up their resources. Make their officers show up to something."
Those comments were reportedly made when the student government discussed a letter calling on UMPD Chief Matt Clark to resign. The letter accused that Clark "has overseen and failed to act on the countless accusations of discrimination" and "allowed the utilization of UMPD as a physical arm of the oppressive state to subjugate and silence community members both on and off campus."
In a joint statement (pdf) released last week, the Minnesota Police and Peace Officers Association (MPPOA) and Law Enforcement Labor Services, which represents UMPD, called for both university and criminal investigations into Meyers' comments.
"Actively planning to thwart UMPD by generating false calls for help is insulting to the overwhelming majority of the campus community that rely on public safety services. MSA leaders should be ashamed—and apologize to the campus community and victims of crime on campus," MPPOA Executive Director Brian Peters said in the statement.
"Last month the campus community had 13 incidents of aggravated assault, 52 burglaries, 22 car thefts, 4 sexual assaults, numerous thefts, and a murder on or near campus," Peters continued. "We're frustrated that elected student leaders would purposefully choose to stir further division to make the campus less safe."
The unions also included in their statement a number of legal statutes and student code of conduct they believe Meyers might have violated, including "reporting fictitious emergency resulting in serious injury," which is a felony punishable by up to 10 years in jail or a $20,000 fine, or both.
A spokesperson for the University of Minnesota also disapproved of Meyers' remarks in an interview with Alpha News, saying that while the university respects the autonomy of the MSA membership to speak freely, "these ideas are illegal and would directly conflict with ongoing efforts to keep our campus community safe."
Meanwhile, Foundation for Individual Rights in Education (FIRE), a non-profit organization advocating for campus free speech, argues that Meyer's call to action remains protected under the First Amendment.
"Advocacy of 'lawless action' is only unprotected incitement if it is intended and likely to result in imminent unlawful activity," wrote Adam Steinbaugh, director of FIRE's individual rights defense program. "And, of course, nothing about Meyers' comments indicates that she has already done anything prohibited by Minnesota law, despite claims by the police unions that her speech may violate criminal law or university policy."