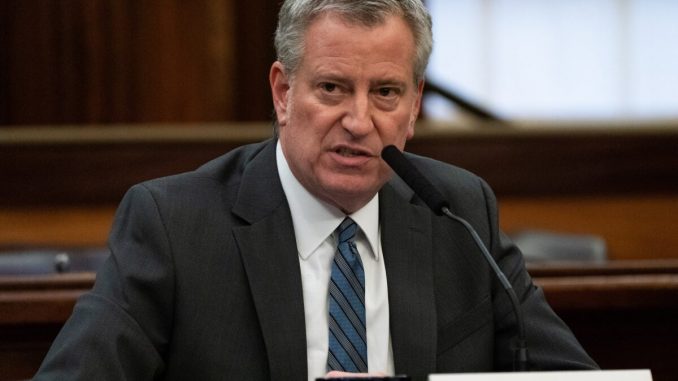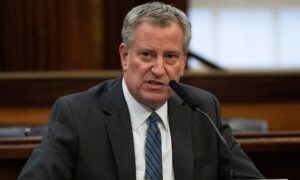 Remote learning arrangements in New York City public schools will end in September and be replaced with classroom-only instruction, Mayor Bill de Blasio announced Monday.
"It's good news," de Blasio said on MSNBC adding, "one million kids will be back in their classrooms in September, all in-person, no remote."
"We're going to be back strong, ready, safe. COVID is plummeting in this city, I'm happy to say, we're almost at 8 million vaccination doses since day one," de Blasio said.
After hitting a recent peak of 4,209 daily infections on March 26, the seven-day moving average case count has been in a steady, downward trend in New York City, with authorities noting 474 new infections on May 20.
"We're at the lowest COVID positivity in seven months right now," de Blasio said.
New York City was one of the first large U.S. cities to reopen schools for in-person instruction in the fall of last year, but many parents opted for online-only learning for their kids.
Asked about how to persuade hesitant parents of the 60 percent or so kids now learning remotely to send their children back to schools, the mayor spoke of a messaging campaign to address reluctance, including encouraging parents to visit schools starting in June to "get re-acclimated" and see for themselves the safety measures, like cleaning and ventilation, that have been implemented.
"It's time. It's really time to go full strength now," de Blasio insisted.
Children returning to schools will be required to abide by various safety protocols, de Blasio said, but added that he expects the Centers for Disease Control and Prevention (CDC) to ease its guidance for schools between now and September.
"Right now, in New York City public schools, we could have every child three feet apart, we could make that work if we had to," de Blasio said, referring to the CDC guidance on social distancing in school settings.
"I actually fundamentally believe, by August, the CDC will relax those rules further to recognize the progress that we've made in this country," de Blasio said.
In its latest guidance, the CDC said all K–12 schools for the 2020-21 academic year "should implement and layer prevention strategies and should prioritize universal and correct use of masks and physical distancing."
The CDC said masks should be worn at all times by all people in school facilities and buses, while maintaining a six-foot distance between teachers and students, and a three-foot distance between students in most settings.