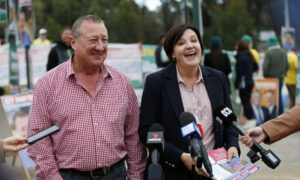 Labor is "shell-shocked" at the "terrible" result of a NSW by-election that saw its primary vote slide backwards and the center-right Liberal-National government retain the marginal seat, NSW opposition leader Jodi McKay says.
McKay told reporters on Sunday she was "devastated" by the Upper Hunter result. The Upper Hunter is a coal mining region.
"We did not think that the result would be the way it is," she said. "We didn't expect that our vote would go to independents, we didn't expect our vote to be torn away as it was."
Labor conceded defeat on Sunday, with both McKay and ALP candidate Jeff Drayton congratulating their Nationals counterparts.
McKay admitted her party needed to do some "really genuine soul-searching" to figure out why it was not resonating with voters.
Nobody in her party room has asked her to step down or issued a challenge to her role. She said that blaming her party leadership would be a cop-out and would not address the fundamental structural issues facing the Labor party.
McKay urged her party to focus on issues that matter to working people in western Sydney and other places rather than "minority issues."
She says she's implemented changes since the 2019 poll. But the by-election results show that the party hasn't made the progress she thought.
"The policies are good, I just don't know why we're not connecting," she said.
Nationals candidate Daivd Layzell had claimed around 30 per cent of the first preferences from over 41,000 votes counted at 2 p.m. on Sunday.
Drayton was next on 21 per cent, with the One Nation and Shooters, Fishers, and Farmers Party candidates following on 12 per cent.
It represents a significant swing against the opposition, which got 28.6 per cent of first preferences in the 2019 state election.
"Our result yesterday, particularly in Singleton, is a warning to Labor that we can't take any community for granted," Drayton, a coal miner and union official, said in a statement.
"Working class communities are hurting and they're turning away from this government. However, right now, they don't see Labor as the answer.
"Labor needs to do some real soul searching as to how we will win these communities back."
NSW Nationals leader John Barilaro said earlier on Sunday that the result was an indictment of the Labor party.
He accused them of pretending to be for mining and agriculture but not voting accordingly.
He said the problem was not McKay's leadership.
"She's just a jockey, the horse is broken," he told Sky News. "They've got to start fixing their policies …They just can't find their way back because they have forgotten about the people that actually matter."
He had warned Labor on the campaign trail that coal mining is the heart of the Hunter: "At the end of the day, when it comes to employment numbers and employees, directly and indirectly, small businesses survive heavily on mining."
Premier Gladys Berejiklian had said that the election could go either way as governments traditionally don't do well in by-elections. The Nationals have held the seat for the last 90 years, although it has become marginal.
The by-election was sparked when Nationals MP Michael Johnsen stepped down over allegations he had solicited sex in the parliament and revelations he is under police investigation for sexual assault.
The final vote count will not be known for some days, with postal votes returning as late as Wednesday.
By Hannah Ryan