The latest outbreak of COVID-19 in China continues to spread. On May 21, a case was reported in Guangzhou, the provincial capital of China's southern coastal province Guangdong, causing closure and lockdown of a youth center and a university. Meanwhile, more cases have occurred in Yingkou, Liaoning province, triggering the northeastern city to raise its emergency response level to three.
Guangzhou authorities announced at a press conference that a 75-year-old female patient went to the fever clinic of Liwan District Central Hospital on May 20 and tested positive for COVID-19.
According to the announcement, seven close contacts of the woman have been quarantined, including her grandchild who is a student at a local university. It added that people living and working in Longjin Street in Liwan District and nearby residents must all undergo nucleic acid testing. No one would be missed, it stressed.
Online video shows that the Liwan District Central Hospital and the nearby Jinlong Community in Longjin Street, Liwan District, have been blocked off with residents also being tested.
According to social media posts, Guangzhou University of Chinese Medicine is under lockdown due to the woman's grandchild being a close contact. All students, faculty, and staff have been required to get tested. The university is located in the Guangzhou Higher Education Mega Center, the city's university district of 6,250 acres.
One post read, "I'm in Guangzhou University of Chinese Medicine, and the university closed down since 6 a.m. today."
"There is a close contact in Guangzhou University of Chinese Medicine, and the whole university district is in danger," read another post.
The lockdown of the university has attracted the attention of netizens, and two related entries made the most viewed list on Chinese social media Weibo.
The Youth Palace and Youth Science, Art, and Sports Training Center of Guangzhou City in Liwan District also suspend their classes for one week from May 21 because of the case.
Meanwhile in Liaoning province, after the reporting of two more cases on May 16, another asymptomatic case was reported on May 21 in Yingkou city. The patient is a 9-year-old elementary school student, bringing the total number of local infection since May 14 to 16.
On May 21, Jin Li, deputy mayor of Yingkou City, announced at a press conference that from May 1 to May 13, the boy had traveled all across the city, including visits Volcano Park, Moon Lake Park, Wanda Plaza, Jincheng Bathing, Jinhua Cram School, and Wugong Buke dance school.
Netizens criticized the official announcement for being very general, without enough information for residents in the city to know if they could have come in contact with the patient.
One post read, "The notification should be more specific to tell us the activity trajectory at a specific time on a certain day, such as which places have been visited on a specific day and during which time period. How can other people find out if they have been exposed to it if the authorities do not announce the specific information?"
Due to new COVID-19 cases being reported in the city and an unidentified source for the initial infections, Yingkou city has raised its emergency response level to three (four is the highest), and has prohibited people in medium-risk areas from leaving the city.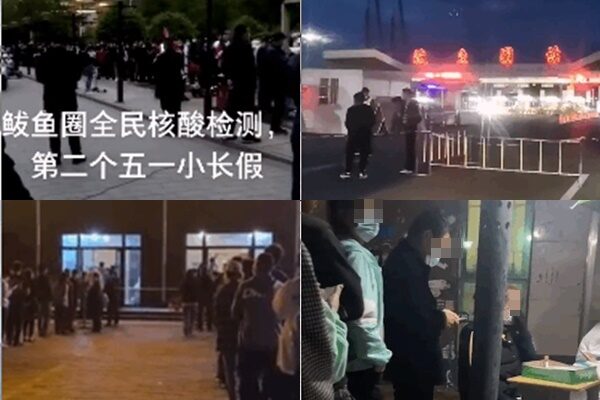 This round of COVID-19 local infections in mainland China first occurred in Liaoning and Anhui provinces, as authorities there blamed each other for being the source of the outbreak. Tens of thousands of close contacts of the confirmed patients were notified across six provinces.
The actual numbers of infected people in Yingkou and Anhui province are unknown, since the Chinese communist regime has a history of downplaying or covering up crises.
Recently, Chinese media cited epidemic experts speculating that the earliest case of infection of this round may have appeared in Yingkou as early as in mid-April.
Xiao Lushen contributed to this report.