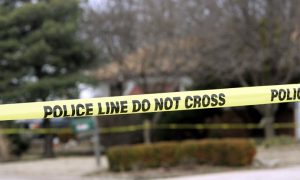 New Jersey State Police said it is investigating reports of a shooting with several victims at a home in Cumberland County amid claims there was a large party in the vicinity.
The state police, which provided scant details of the incident in a statement early Sunday morning, said that troopers responded to a residence on E. Commerce St. in Fairfield Township after a "report of a shooting with multiple victims."
Local officials said that around a dozen people were injured and at least two people died, reported local media outlets. One of the 12 individuals who were shot is in critical condition.
The slain victims were identified as a 30-year-old man and a 25-year-old woman, officials told ABC6 in Philadelphia. Their identities were not released to the public.
State police said that no arrests were made in the case. No motive was provided by officials.
The shooting occurred as more than 100 people attended a party, officials said.
"It was hundreds of people, our neighbors, who were just getting together because it was the first really warm, nice night. There were a lot of parties and get-togethers throughout the community, and this was probably the biggest," Melissa Helmbrecht, who works for youth advocacy group Hopeloft, told WCAU-TV.
"I just started hearing at first what I thought was fireworks, it was really gunshots, and I heard nine in rapid succession," said Rev. Michael Keene of the Trinity AME Church, which is located across the street from where the shooting occurred, ABC6 reported.
Anyone with information should call the New Jersey State Police Bridgeton Station at 856-451-0101, or they can submit a tip via the Cumberland County Prosecutor's Office tip website at www.njccpo.org/tips.
Fairfield Township is located in the southern part of New Jersey approximately 55 miles south of Philadelphia, Pennsylvania.