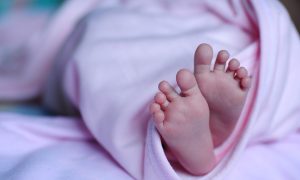 A 14-year-old girl gave her newborn daughter to customers at a New Jersey restaurant before leaving the scene, according to the restaurant owner and witnesses.
The girl had appeared to had just given birth to the baby with its umbilical cord still intact when she handed the child to the customers at a restaurant in Jersey City, said a restaurant employee to the Jersey Journal.
Alease Scott, who took the baby from the girl in the restaurant,
Meanwhile, the owner of the restaurant, El Patron Mexican Restaurant, said the teen was "desperate" and asking: "Somebody,' like, pleading, 'Can you help me?' She was asking for the firefighters. It was a very dangerous situation," WPIX reported.
"Once she handed the baby to someone else, one of our customers, she just left," employee Frankie Aguilar told the Journal, adding that the child had its umbilical cord still attached. The child was then taken to the Jersey City Medical Center.
Scott, a mother of two children and preschool who was there eating, said that the teen handed the baby to her, reported WPIX. The 14-year-old then quickly left.
"At first, I said to myself, 'Well, let me get your name, if you're just gonna drop the baby off,' because she said she was in a rush, that she had to pick up another child," Scott said.
According to police radio transmissions cited by the paper, the girl was located soon after the incident. She was also taken to the Jersey City Medical Center.
Authorities told WPIX that the girl won't face criminal charges. She was not identified in reports.