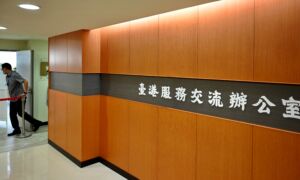 Hong Kong suspended the operation of its representative office in Taipei, accusing Taiwan of giving succor to pro-democracy activists in a strongly worded statement issued on Friday.
The Hong Kong government said its decision early this week to close the Hong Kong Economic, Trade and Cultural Office (HKETCO) in Taipei was due to the actions of the Taiwan-Hong Kong Office for Exchanges and Services (THKOES), claiming the assistance it offered to pro-democracy activities "created irretrievable damage to Hong Kong-Taiwan relations," according to the statement.
Last June, Taiwan president Tsai Ing-wen launched THKOES, under the Hong Kong Aid Project, as a response to the national security law imposed by the Communist Chinese Regime, which penalizes vaguely defined crimes such as subversion and secession with a maximum penalty of life imprisonment.
Hong Kong police have carried out mass arrests of protesters who were against the national securities law, prompting many to leave. Some moved to Taiwan.
Taipei claimed the office was set up to provide "friendly and streamlined services and basic care for Hong Kong citizens arriving in Taiwan in need of assistance," according to Taiwan's office handling cross-strait relations.
The Hong Kong government asserted that the supports "grossly interfered" in the city's "affairs," an argument that the communist regime frequently uses to deflect criticism by western governments over its human rights violations in far-western Xinjiang, Hong Kong, and Tibet.
The statement mentioned the Hong Kong government would continue to handle general inquiries and requests for assistance made by Hong Kong residents in Taiwan through the official website and hotline service.
Based on the agreement between Hong Kong and Taiwan, HKETCO was opened in Taipei in December 2011 to promote economic and trade cooperation as well as cultural exchanges.
Meanwhile, Taiwan's office in Hong Kong has also encountered problems. The city's authorities reportedly refused to renew eight staff members' working permits unless they signed a document supporting Beijing's claim to Taiwan under its "one China" policy. As a result, their visas are due to expire this year.
In the wake of the enactment of the national security law, Hong Kong's population fell in 2020 for the first time in nearly two decades, recording a large outflow of residents. The Taiwan immigration department's data shows that residential permits issued to people from Hong Kong almost doubled in 2020.
On Thursday, Hong Kong's High Court ruled that Tong Ying-kit, the first person charged under the national security law in Hong Kong, would face a trial without a jury. Tong was arrested on July 1 for protesting against the new law and was charged with inciting separatism and terrorism.