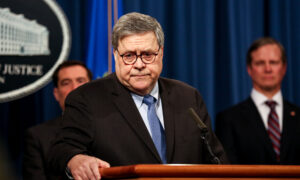 Former Attorney General Bill Barr criticized the U.S. public school system during his first speech since leaving the Justice Department, calling the current system in the inner cities racist because of what he described as low-quality, secular, progressive teachings that are pushed throughout the schools.
"The real issue of systemic racism in our country, which is our public school system in the inner cities, where we've relegated inner-city school children to these failing schools, depriving them of a future, depriving them of opportunity," Barr said during a speech in Naples, Florida, on Thursday. "That's the system of systemic racism."
"President Obama waltzes into Washington enrolls his two daughters in the most exclusive private school there, Sidwell Friends, and one of his earliest acts is to terminate, a broadly-supported and bipartisan program in the District of Columbia that provided scholarships to inner-city kids to go to parochial school," Barr continued.
Barr was referring to The D.C. Opportunity Scholarship Program—the first federally funded voucher program that gave scholarships to low-income children in Washington for tuition and fees at participating private schools.
The legislation was first passed in 2003 but was allowed to expire for the first time in 2009 during the Obama administration. It was reauthorized in 2011, before being terminated at the end of Obama's second term but was revived under President Donald Trump.
Fox News' "The Story" was first to report on Barr's speech.
"The time has come to admit that the approach of giving militantly secularist government schools a monopoly over publicly funded education has become a disaster," Barr said. "It may no longer be fair, practical, or even constitutional to provide publicly funded education solely through the vehicle of state-funded schools."
The Biden administration has put all its weight behind such "progressive, secularist" curriculum and is seeking to prioritize funding education programs that incorporate the ideas of the New York Times' 1619 Project and critical race theorist Ibram X. Kendi into their teaching of U.S history and civics.
In a proposed new rule released April 19, the Education Department outlined new priority criteria for a $5.3 million American History and Civics Education grant, as well as exemplary materials for K-12 educators to use.
The 1619 Project, which centers around the idea that the United States is inherently racist, consists of a collection of essays that argue, among many other controversial claims, that the primary reason for the American Revolution was to preserve slavery. Its historical accuracy has also been challenged by a variety of scholars, including the project's own fact-checkers.
Meanwhile, Kendi is best known as a vocal advocate of the quasi-Marxist critical race theory, through which one sees racial oppression everywhere in society and considers those who disagree to be proponents of the alleged oppression. In his latest book "Antiracist Baby," Kendi uses rhymed verses to explain to preschoolers how they can reflect on and purge their so-called inherent racism and how their parents can help raise future "antiracist" activists.
Conservatives across the nation are trying to prevent the teaching of critical race theory and have expressed concern about the Biden administration prioritizing the funding of educational programs that incorporate the ideas of the 1619 Project into their teaching of U.S. history and civics, reorienting bipartisan programs "away from their intended purposes toward a politicized and divisive agenda."
GQ Pan contributed to this report