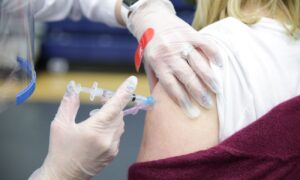 The COVID-19 vaccination rate in the state of Ohio has surged after Gov. Mike DeWine announced that five residents will win $1 million each as a monetary incentive for getting inoculated, health officials said this week.
Ohio's Department of Health said Thursday that from May 14 to 17, vaccination rates for people 16 and older jumped 28 percent. The Republican governor announced the state's incentive program (pdf), named "Ohio Vax-a-Million," on May 12.
Under the "Ohio Vax-a-Million," which will be funded by existing federal pandemic relief funds, Ohio residents who are at least 18 years old and have received "at least" one dose of the COVID-19 vaccine are eligible to win the sum in once-a-week lottery drawings, the governor announced last week.
The first drawing will occur on May 26, DeWine said at the time, noting that the Ohio Department of Health will be the sponsoring agency for the drawings and the state Lottery will conduct them.
"This dramatic increase in vaccinations indicates that the Vax-a-Million drawing has been impactful in creating momentum for vaccinations throughout Ohio," Stephanie McCloud, director of the state's health department. "We are grateful that the drawings are helping spur Ohioans to take this important measure to protect their health, their loved ones, and their community."
"We are seeing increasing numbers in all age groups, except those 80 and older, who are highly vaccinated already," McCloud added. "Although the rate among that group is decreasing, it is doing so at a less rapid pace, demonstrating some positive impact even in that group."
DeWine said last week that the pool of names for the drawings, set to take place each Wednesday for five weeks, will come from the Ohio Secretary of State's publicly available voter registration database. Residents not in the database can register on a separate website that will be made available later, the governor said.
A separate incentive for younger Ohio residents will see five vaccinated 12- to 17-year-old students receive full four-year scholarships to attend Ohio public universities, including tuition, room, board, and books.
The incentive program came as demand for COVID-19 vaccines in the state—and nationwide—has dwindled, in part following an 11-day pause in administering the single-dose Johnson & Johnson shot, as federal health authorities investigated reports of potentially dangerous blood clots.
The CDC and the U.S. Food and Drug Administration on April 24 recommended that the distribution of the vaccine continue but with warnings.
New York and Maryland on Thursday also announced that they will be rolling out similar vaccine incentive programs.
New York Gov. Andrew Cuomo told reporters that New Yorkers who get vaccinated from Monday to Friday next week will be given a lottery ticket with a cash prize of as much as $5 million.
Meanwhile, a vaccinated Marylander will be chosen at random daily for a $40,000 prize, starting July 3 and ending July 4, Gov. Larry Hogan. He said that one person will receive a grand prize of $400,000.
The Biden administration is also facing the challenge of figuring out new ways to motivate more people to get vaccinated. The White House on May 11 said that people traveling to get their shots will get free or discounted ride shares.
Companies have also started offering incentives as part of an effort to encourage Americans to get vaccinated. For example, Krispy Kreme stores are offering one free glazed doughnut for people who show that they have had one or two shots of any COVID-19 vaccine.