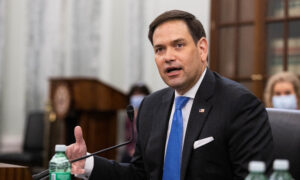 U.S. Senate and House lawmakers recently reintroduced legislation that would deny visas to aliens who have committed espionage or stolen U.S. intellectual property—particularly those with ties to the Chinese Communist Party (CCP).
"We know that the Chinese Communist Party will spare no effort to steal from, and exploit, American companies and universities," Sen. Marco Rubio (R-Fla.), one of the lawmakers who introduced the bill, stated according to a May 20 statement.
Rubio added: "If a Chinese citizen has spied on us before, we should absolutely assume he or she will do so again. This legislation prevents repeat offenders from gaining access to our country."
Rubio noted in the release that CCP spies expelled from the United States currently can reapply for U.S. visas.
The legislation, called the Protecting America from Species Act, would update the Immigration and Naturalization Act to ensure that any alien who "engages, has engaged, or will engage" in espionage, sabotage, or other activities that are in violation or evasion of any U.S. law "prohibiting the export from the United States of goods, technology, or sensitive information," according to the text of the bill (pdf).
The spouse and children of the alien would also be disqualified from getting or renewing a visa, if the alien's activity that made him inadmissible to the United States occurred within the last five years, according to the bill.
The Senate bill was introduced by Rubio and Sen. Ted Cruz (R-Texas) and the House version was introduced by Rep. Vicky Hartzler (R-Mo.).
Hartzler first introduced the measure, H.R.7326, in June 2020. Cruz, Rubio, and three other Republican senators introduced the measure, S.4345, a month later.
"The Chinese Communist Party takes a whole-of-state approach to espionage and intellectual property theft, and relentlessly seeks to infiltrate and steal from America and American institutions," stated Cruz.
To make his point, Cruz said the Chinese regime exploited its consulate in Houston for "malign purposes," instead of diplomatic purposes.
The State Department ordered the Chinese consulate in Houston to close on July 22 last year, in order to "protect American intellectual property and American' private information." At that time, Rubio called the Houston consulate a "massive spy center" for the CCP.
One day before the closure order, two Chinese hackers working for China's Ministry of State Security—the Chinese regime's chief intelligence agency—were indicted for cyber espionage that lasted more than 10 years. They stole personal information and trade secrets and attempted to steal COVID-19 research.
"The threat of China and the prevalence of its spies warrant strict and steadfast action to limit their destructive espionage efforts—which is why the Protecting America from Spies Act is urgently needed," stated Hartzler, according to the statement.
Christopher Wray, director of the Federal Bureau of Investigation (FBI), said last year that the bureau opened one new Chinese counterintelligence investigation about every 10 hours. He also said that the bureau had over 2,000 counter-intelligence investigations related to China at that time.
One FBI investigation involved Zhang Hao, a Chinese professor who was sentenced to 18 months in prison in September 2020, after he was convicted of economic espionage and theft of trade secrets. Prosecutors said that Zhang conspired with others to steal from two U.S. companies for the benefit of the communist regime in China.
Also in September last year, the State Department announced that it revoked more than 1,000 visas of Chinese nationals over their ties to China's military.