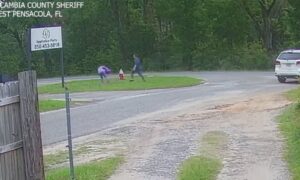 A Florida girl who escaped the clutches of a would-be kidnapper in an incident caught on camera said watching "Law & Order" helped her catch the suspect.
The girl, identified as 11-year-old Alyssa Bonal, was seen on a video released by the Escambia County Sheriff's Office fighting off a man later identified as 30-year-old Jared Stanga, who was captured later in the day.
"Her first words were, 'Somebody tried to kidnap me. He grabbed me by my throat and he had a knife.' She said she was able to kick and she tripped him and freed herself," the girl's mother Amber Bonal told the Pensacola News Journal.
Officials said earlier this week that the girl was playing with blue slime when Stanga tried to grab her at a bus stop. They found blue slime smeared on him when he was arrested.
Her mother added, "She said, 'Mom, I had to leave some sort of evidence behind, like on Law & Order SVU.' We've watched probably every episode on Hulu. She's a smart cookie, she thinks on her toes. She got that slime everywhere," according to the paper.
Alyssa Bonal, meanwhile, described the incident to WKRG-TV, saying that Stanga was allegedly armed.
"He had a knife in his hand," Alyssa said. "I tried running off but he grabbed me. He took me with his arm and I was able to get him down to the ground and I was able to get away."
Stanga is currently in jail and being held on a $1 million bond.
"This animal is off the street," Escambia County Sheriff Chip Simmons said in a press conference this week. "We can once again applaud the efforts and resilience of that 11-year-old girl."