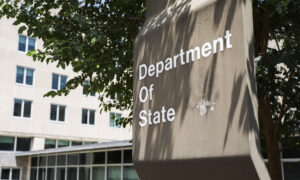 The United States is now granting citizenship to children born through in vitro fertilization or other means of assisted reproductive technology, such as surrogacy.
President Joe Biden's administration is changing the federal government's interpretation of Section 301 of the Immigration and Nationality Act (INA), which outlines the requirements for acquisition of U.S. citizenship at birth.
Previously, the government required children have a biological connection to their U.S. parent to receive citizenship. Under the updated interpretation, the child may only have a biological connection to one parent, even if that parent is not a U.S. citizen.
"This updated interpretation and application of the INA takes into account the realities of modern families and advances in assisted reproductive technology (ART) unforeseen when the Act was enacted in 1952," the State Department told The Epoch Times via email.
"This change will allow an increased number of married couples, including those using ART, to transmit U.S. citizenship to their child born overseas, while continuing to follow the citizenship transmission requirements established in the INA."
The requirement for a biological connection to a U.S. citizen remains in place for unmarried parents.
The State Department declined to provide an official policy update, though it has altered language on its website to reflect the updated interpretation. The update is effective immediately and will be applied retroactively to Dec. 24, 1952, so individuals who were ineligible for a birth citizenship but are not any longer can apply for it.
Immigration Equality, a group that works for equality for LGBTQ people, cheered the move.
"This is a remarkable moment for all the LGBTQ families who fought the U.S. State Department's unconstitutional policy," Immigration Equality Executive Director Aaron Morris said in a statement.
Several same-sex couples in recent years sued the U.S. government over the policy, including Andrew Dvash-Banks, a U.S. citizen, and his husband Elad Dvash-Banks, a noncitizen.
The couple's child was conceived using an egg from an anonymous donor and Elad's sperm, meaning there was no biological connection to the U.S. citizen parent. The State Department determined that their child, E.J., was thus not granted citizenship upon birth in Canada.
The State Department was ruled against by federal courts in that case and another similar matter. It withdrew its appeal last year in one case and decided not to appeal the ruling in another.
Allison Blixt, a lesbian parent who filed a lawsuit against the government after it denied citizenship to her baby, called the updated interpretation of INA a success.
"We are relieved and thankful that our fight for our family to be recognized by the government has finally ended," Blixt said in a statement.
Still, the new legal view could make it easier to commit fraud.
"This simply provides another wrinkle for the marriage fraud problem," Jon Feere, director of investigations for the Center for Immigration Studies, told The Epoch Times.
"In theory, it could have U.S. citizens offering to marry foreign nationals for a sum of cash and, in exchange, that foreign national adds a U.S. passport holder to their family," he added.
"The Department is keenly aware of the potential for fraudulent claims of citizenship or entitlement to immigration benefits. As with all citizenship and immigration benefits we examine, the Department implements this policy in a manner that addresses our fraud concerns," the State Department told The Epoch Times.