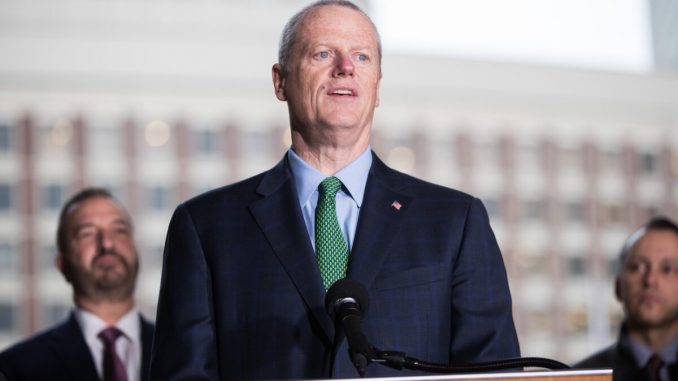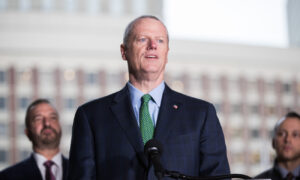 Facing mounting legal pressure, Massachusetts Gov. Charlie Baker announced the Bay State will soon stop enforcing pandemic-related restrictions on civic life and businesses, including those that single out religious gatherings—months ahead of Baker's previously stated reopening deadline of Aug. 1.
Baker's announcement came days after First Liberty Institute and the Massachusetts Family Institute filed a federal lawsuit challenging the restrictions on behalf of New Life South Coast in New Bedford, Massachusetts, and the New Civil Liberties Alliance (NCLA) asked the Supreme Court to review a state court ruling that held the Republican governor's restrictions didn't violate its clients' federal constitutional rights.
The announcement also came as state and local governments across the country are easing restrictions, including mandatory mask-wearing, aimed to combat the CCP virus that causes the disease COVID-19.
"I think the state is beginning to get the message that you can't treat churches in such a way that it makes easier to meet together as a body at Applebee's or the AMC theater than at church," First Liberty attorney Jeremy Dys told The Epoch Times in an interview.
"It is clear that the governor's restrictive orders violated religious freedom," Andrew Beckwith, president of the Massachusetts Family Institute, said in a statement. "It was patently unfair that people could congregate at a coffee shop but not at a church. This change is great news for people of faith across Massachusetts."
Baker's 14-month-old state of emergency and its continuing restrictions will be phased out near month's end. All remaining restrictions and capacity limits will end May 29 and fully vaccinated individuals will no longer have to wear masks in most settings, Baker said during a May 17 press conference.
All industry restrictions will be removed, and capacity limits will increase to 100 percent for all industries, Baker said, adding the limits on the size of gatherings will also be lifted.
"We said since Day 1 that we will get through this together because the people of Massachusetts are strong, kind, and willing to sacrifice to help their neighbor. Today, we know more than ever that that is the truth," Baker said.
As of May 18, Massachusetts no longer required masks for outdoor activities, such as recess, for students in kindergarten through 12th grade and for child care settings. The state will also allow objects to be shared in classrooms. As of May 29, restrictions on youth and amateur sports will be rescinded, the governor said, and the declared state of emergency will end June 15.
Baker said the state expects to meet its goal of vaccinating 4.1 million in Massachusetts by the first week of June. "Today, Massachusetts leads the nation in vaccinations, and we are on track to meet the goal that we set for ourselves back in December."
The NCLA filed a petition for certiorari, or review, on May 12, with the Supreme Court asking the justices to review the Massachusetts Supreme Judicial Court's December 2020 ruling that held the governor's restrictions didn't violate the plaintiffs' federal constitutional rights, as The Epoch Times previously reported.
In the case Desrosiers v. Baker, the petitioners—individuals, business people, small businesses, and churches—argue that the current restrictions on their civil liberties violate their due process rights. Baker's capacity limitations, curfews, and other restrictions on gatherings in private homes "underscore the need for judicial oversight of executive decrees, even during a pandemic," the NCLA stated.
The NCLA argued the Massachusetts court erred in finding that relaxed legal standards should be applied to its clients' First Amendment freedom of assembly claims and that Baker's restrictions could pass muster under the due process clause so long as they were reasonably related to a valid state interest. Closer judicial scrutiny is called for when "the restrictions on personal liberty are so extreme and have been imposed by order of a single executive-branch official rather than a legislature."