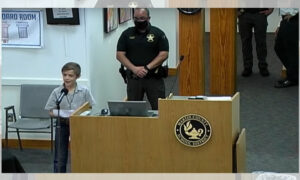 A 10-year-old boy from Florida has gone viral online after telling his local school board that the school district's prolonged mask requirement doesn't seem fair or make sense to him.
John Provenzano, a fourth-grade student at Felix A. Williams Elementary School in Martin County, recently gained popularity on social media because of a video in which he urged the school board to stop requiring students to wear masks.
"I expected school to be a little bit different, in the beginning, but I didn't think it would stay this way all year long," Provenzano said at an emergency school board meeting on May 12.
"I was surprised by the rules. A lot of them didn't make any sense to me, like the fact that we were not allowed to play on the playground or have student council or turn to face each other at lunch," he continued. "And we also have to wear masks outside at PE and on track."
He moved on to question the practice of teachers forcing kids to mask up at all times, saying there was one teacher who "walks around with a clipboard full of referrals for any student whose mask isn't on properly." "It makes me feel scared," the boy said, adding that this teacher would pull her own mask down to yell at students for not masking up, which makes him and his friends "very mad."
"This happens a lot," Provenzano said. "And it seems unfair that teachers take their masks off while they yell at us kids and that we need to pull ours up. I asked my mom if there was a word for this, and she said there is: Hypocrisy."
"It seems unfair," the boy said in closing, sounding a little emotional. "All of this seems unfair, and it doesn't make sense. I miss seeing people's faces. I miss the way things used to be. I'm scared that it will never go back to normal."
The Martin County School District ultimately decided in the meeting to require masks till the end of this school year, and make it optional for the next school year.
Florida Gov. Ron DeSantis, who has never issued any statewide mask requirement, ordered earlier this month an immediate end to "local COVID-19 restrictions and mandates on individuals and businesses," including those involving masks. The Republican governor's order, however, doesn't apply to public school districts.
Most of Florida's school districts put in place mask mandates in August 2020, when they reopened for either fully in-person or a hybrid version that includes both in-person and remote instructions. They only started to discuss whether to renew their mask policies in recent weeks, as public pressure mounts.
While the Florida Department of Education has yet to say if it would limit districts' authorities to enforce mask mandates, DeSantis has made it clear that he wants students to "have a normal school year" when they return this fall.
"These kids do not need to be wearing masks, okay? I'm sorry, they don't," DeSantis said last week. "We need to be able to let them be kids and let them act normally, and that's what should be the case in the fall [and] throughout the school year."