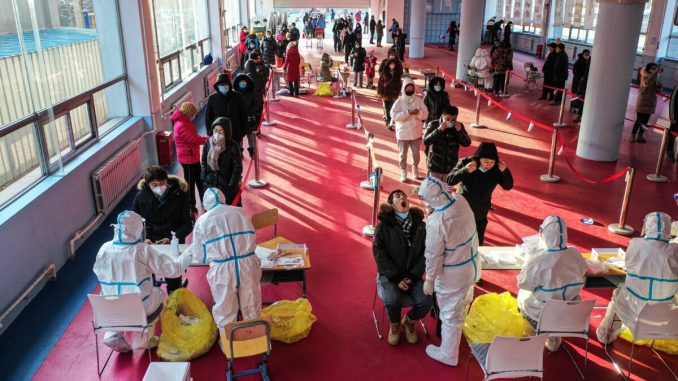 After the May Day holiday, local COVID-19 epidemics that broke out in Liaoning and Anhui provinces have extended to other provinces in China. However, the source and route of the virus spread are still unknown, while thousands of close contacts of identified cases have been tracked down.
Just in Liaoning's capital and largest city, Shenyang, more than 40,000 people were reportedly forced into home quarantine because they traveled during the May Day holiday. People were quarantined regardless of whether or not they had been tested for the virus. According to netizens, local officials were again seen sealing off residential communities, as well as barricading the entrances of some home and the windows of some buildings, in a breach of basic human rights by the government.
An employee of a supermarket near the Yiyuan Community in Heping District of Shenyang city, told NTD, a sister media of The Epoch Times, "Yiyuan Community is under lockdown, and people can only enter and cannot exit. It's just because some residents there went to Yingkou for vacation during the May Day holiday."
Wu Zunyou, the chief expert on epidemiology in China, told Chinese media that this round of outbreaks could be traced back to the May Day holiday when large gatherings and travel led to a jump in cases of virus transmission. Experts have also said that there is now an elevated risk of spread in China.
Currently, confirmed COVID-19 cases have only been officially reported in Liaoning and Anhui provinces. However, the thousands of identified close contacts of the confirmed cases have already reached seven provinces and regions, including Beijing, Hubei, Jiangsu, Gansu, and Shanxi.
A notice from the ruling Chinese Communist Party's Health Commission said that local cases were still being reported on May 17 in Liaoning province. Meanwhile, Shenyang designated three more regions as medium-risk, bringing the total number of medium-risk areas in China up to 22. Local officials also announced mass testing for all residents in several Shenyang districts with elevated risk.
Outbreak Spread
The Shenyang government announced that between May 15 and 16, a 61-year-old retired man and his 83-year-old mother were infected. During the May holiday week, these two cases were among a family of 12 people who traveled to Bayuquan District of Yingkou City in Liaoning, which has reported clusters of COVID-19 infections since last week.
Up to now, Yingkou city alone has issued a total of 14 official letters of assistance to six provinces, five cities and one autonomous region to track down close contacts of infected patients.
As of May 19, other provinces and cities have not reported any COVID-19 cases related to Yingkou yet.
Officials in Liaoning and Anhui provinces are still blaming each other for being responsible for this round of COVID-19 outbreaks in China, as "patient zero" goes unreported or unidentified.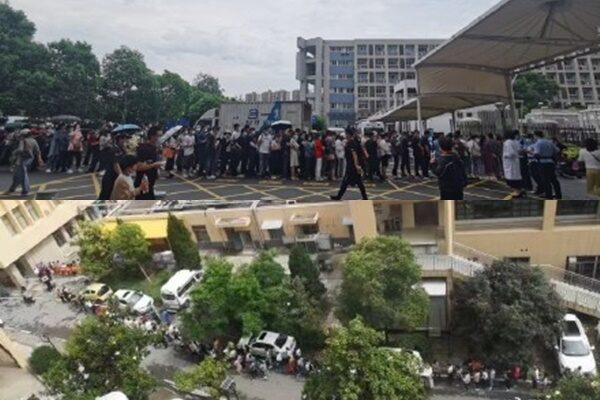 The unknown source of transmission has caused panic among Chinese netizens, who question the official story. One posted, "Why other people who went to Yingkou were fine, only the ones from Shenyang were infected?"
Another asked, "How come they got infected at a place where there have been no cases reported for more than half a year. This is the key question."
Meanwhile, netizens have posted on Chinese social media images of neighborhoods being sealed off in Yingkou. Similar images from Shenyang were also posted.
Mirroring reports from Shenyang, netizens said that community epidemic prevention personnel in Xiongyue Town of Bayuquan District in Yingkou City began to block off related residential communities, including sealing off building entrances and residents' home doors. On May 17, locks were put on the community doors and unit building doors. Some building doors were even welded shut.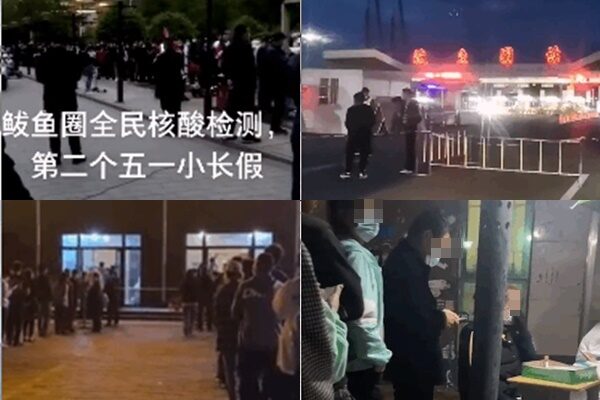 After the May holiday week, official state media Xinhua reported a suggestion from China's Center for Disease Control and Prevention that when returning from travel, people should monitor their health for CCP virus symptoms. The news caused people to suspect that the CCP has been concealing the real situation of the COVID-19 epidemic in China since the start of the crisis in Wuhan, as very few cases had been reported compared to other countries.
Qin Peng, a U.S.-based current affairs commentator, told The Epoch Times that this round of COVID-19 infection occurred after months of no local cases being reported in China. Since information released by the Chinese communist regime is not transparent, he believes that the COVID-19 epidemic never disappeared in China, and that the Chinese government just did not report on it. When there were reports, officials would say the virus cases came from abroad.
Huang Yun and Xiao Lusheng contributed to this report.