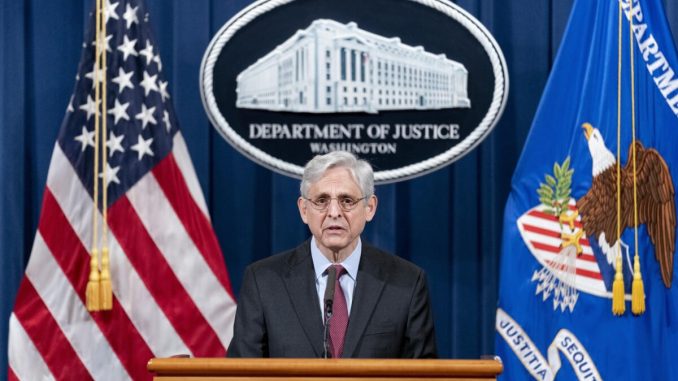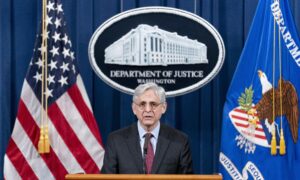 The Justice Department has launched a task force that would bolster existing law enforcement efforts cracking down on CCP virus-related fraud.
The task force, which will be led by the deputy attorney general, will augment existing investigations and enforcement initiatives to detect and disrupt COVID-19-related fraud.
Attorney General Merrick Garland said in a memo on Monday that the department has already charged nearly 600 individuals with crimes related to COVID-19 scams totaling over $600 million across the country.
"The Department has secured civil injunctions against persons or companies selling fraudulent products, seized loan proceeds from fraudulent applications, and convicted criminals who have defrauded consumers and misappropriated federal dollars intended to support struggling individuals and businesses," Garland said in the memo sent to department heads (pdf).
Specifically, the task force will help the department identify cross-governmental resources, investigative techniques, and information for uncovering fraud schemes and those who perpetrate them, harness lessons learned about COVID-19-related and other types of fraud over the past year, and deter, detect, and disrupt future fraud wherever it occurs.
The task force will also provide resources to the department's public awareness campaign to educate Americans about the threat of CCP (Chinese Communist Party) virus-related fraud.
Since Congress passed the $2 trillion CARES Act last year, the department has investigated claims related to COVID-19-related scams, including ones that bilked the Paycheck Protection Program (PPP), the Economic Injury Disaster Loans, and unemployment insurance out of money. Then-Attorney General William Barr instructed federal prosecutors to investigate and prosecute fraud claims.
The department has also cracked down on individuals who sought to capitalize on the scarcity of vaccines and personal protective equipment by selling counterfeit versions of vaccines and N95 masks, including to health care facilities.
In a recent case this month, a dual resident of New York and Florida was charged with fraudulently obtaining and laundering nearly $4 million in funds from the COVID-19 relief Paycheck Protection Program.
Gregory J. Blotnick, 34, has been accused of fraudulently obtaining more than $3.8 million in PPP funds through eight falsified loan applications, the Department of Justice (DOJ) said in a May 6 release.
The forgivable PPP loans, enacted as part of the CARES Act, were meant to help small businesses weather the impact of the pandemic recession.
Blotnick allegedly laundered and misused the fraudulently obtained funds, including by placing more than $3 million in losing stock trades, even though he certified he would use the money only for business-related purposes, prosecutors said.
"The Department of Justice will use every available federal tool—including criminal, civil, and administrative actions—to combat and prevent COVID-19 related fraud. We look forward to working with our federal government colleagues to bring to justice those who seek to profit unlawfully from the pandemic," Garland wrote in his memo.
Tom Ozimek and Jack Philips contributed to this report.