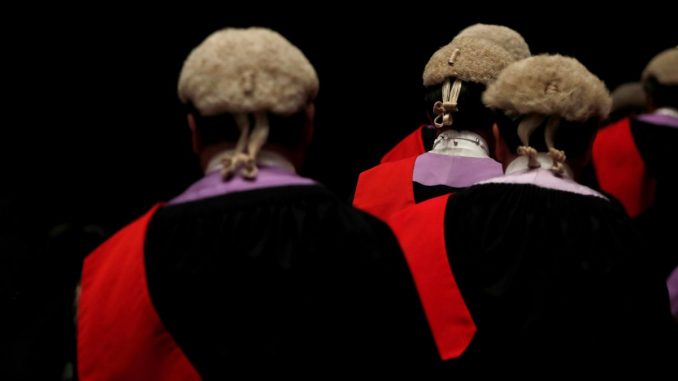 After Hong Kong enforced its version of the National Security Law, the Communist regime stated its intention to reform Hong Kong's legal system last November. Hong Kong's future judicial independence and whether its legal system will converge with mainland China has attracted international attention. The status of the Hong Kong International Arbitration Centre (HKIAC) is also under scrutiny by the outside world.
Recently, Queen Mary University of London released its latest international arbitration survey report titled, "2021 International Arbitration Survey: Adapting arbitration to a changing world." Of the five most preferred seats in all regions, London and Singapore share the top position and Hong Kong sits third. In terms of popularity in the Asia-Pacific region, Singapore still tops the ranking and Hong Kong is second.
For the ranking of arbitration institutions, the International Court of Arbitration of the International Chamber of Commerce (ICC) headquartered in Paris is the most preferred, followed by the Singapore International Arbitration Centre (SIAC), then HKIAC.
The report explained, "The growth in popularity of seats in this region year-on-year may reflect an increasing willingness by parties with commercial interests linked to that locale to also resolve disputes 'locally.'"
According to the report, the percentage gains made by Singapore (54 percent) and Hong Kong (50 percent), as compared to previous surveys, is striking. "Singapore was the third most frequently chosen seat in 2018, selected by 39 percent of respondents, and it came in fourth in 2015, chosen by 19 percent of respondents." Hong Kong also had significant percentage growth, "…took fourth place in 2018, chosen by 28 percent of respondents, and it was third in 2015, as a seat of choice for 22 percent of respondents."
However, the report also mentioned, "It will be interesting to see whether large-scale commercial projects, such as the Belt and Road Initiative, will continue to impact this in the future."
Fewer Cases Accepted by the Hong Kong Arbitration Centre
Shirley Chan (alias) has been a law firm receptionist for 20 years in Hong Kong. She told The Epoch Times that under the pandemic, which caused customs closure and isolation measures, arbitration issues are conducted using video conferencing. To her knowledge, many legal proceedings are related to businesses in the mainland; and many clients have shown concern about the possibility of fair and impartial trials when the Hong Kong version of the National Security Law surpassed Hong Kong's judicial system.
Financial Times reported on Jan. 31, "Large international corporations doing deals in Asia are considering excluding Hong Kong from legal contracts over concerns China's tightening grip may impact rule of law in the territory."
One senior managing partner of a US law firm in Hong Kong was quoted in the article: "We are now getting a lot of questions from companies about this; it has never occurred before in my time. We have large private equity clients who never used to care about arbitration clauses coming to us with the simple question of 'is it safe to leave Hong Kong as the seat [of arbitration]?'"
The article quoted Yoshimasa Furuta, a senior partner at Anderson, Mori & Tomotsune, one of Japan's big four law firms, "For Japanese clients who have always had some concerns about arbitration in China, the questions are becoming more acute with respect to Hong Kong. We are now getting Japanese companies directly asking us whether we think it is safe to use Hong Kong as a seat of arbitration."
Chan indicted that when the parties sign an agreement or contract, they will include arbitration clauses, in which both parties can agree on the arbitration center and the applicable arbitration ordinance. If the contract excludes Hong Kong from the governing law and the arbitration clause, the contract will not be processed under the Hong Kong Arbitration Ordinance and the HKIAC. However, she admitted that she had not experienced the situation mentioned in the report before leaving Hong Kong.
She added that competition always exists between the arbitration institutes in Singapore and Hong Kong. If clients have concerns about Hong Kong's legal environment, they are likely to transfer to Singapore for arbitration.
According to data from the HKIAC, it received a total of 483 cases in 2020. Of those, 318 were arbitrations. Whereas a total of 503 cases were submitted in 2019, of which, 308 were arbitrations,
Since 2015, although theHKIAC arbitration cases have increased year-on-year, the total number of cases prosecuted by HKIAC remained at around 530 during the four-year period from 2015 to 2018, except for 2016 when it was only 460 cases.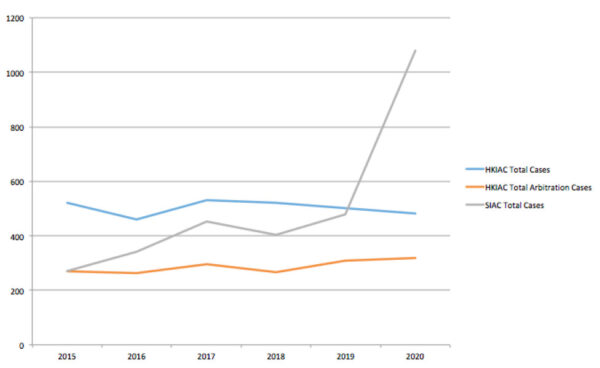 Comparatively, SIAC (siac.org.sg) recorded a total of 1,080 new cases in 2020, setting a new record. This is the first time that SIAC's annual case volume has exceeded 1,000, an increase of 125.5 percent from the 479 new cases in 2019.
It is worth noting that among the cases accepted by SIAC in 2019, thirty three cases were from Hong Kong, making it SIAC's tenth top foreign user; by 2020, there were 60 cases from Hong Kong bumping it up to SIAC's seventh place.
The number of arbitrators from mainland China has risen.
Chan added that many lawyers with a mainland background are hired in Hong Kong, because many organizations and people in Hong Kong value business with China.
According to HKIAC data, Chinese arbitrators designated by parties, or co-arbitrators and confirmed by HKIAC, have risen. In 2020 there were 16 compared to just five designations in 2018.