President Joe Biden told Israeli Prime Minister Benjamin Netanyahu that he wants a "significant de-escalation" in the fighting between Israel and Hamas by Wednesday, according to a White House readout.
"The two leaders had a detailed discussion on the state of events in Gaza, Israel's progress in degrading the capabilities of Hamas and other terrorist elements, and ongoing diplomatic efforts by regional governments and the United States," according to the White House. "The President conveyed to the Prime Minister that he expected a significant de-escalation today on the path to a ceasefire."
Israeli officials, including Netanyahu, have said they are carrying out airstrikes in Gaza in response to Hamas, a designated terrorist group, although the government has faced criticism amid reports of dozens of Palestinians being killed.
Biden, meanwhile, has increasingly faced pressure from the left-wing of the Democratic Party, including "Squad" member Rep. Rashida Tlaib (D-Mich.) and Sen. Bernie Sanders (I-Vt.), to rescind support for Israel. Meanwhile, the organization behind the Black Lives Matter protests waded into the conflict, saying it "stands in solidarity" with Palestinians as pro-Palestinian protesters shut down streets in New York City and demonstrated in other metropolitan areas.
Netanyahu on Wednesday appeared to resist calls for a ceasefire and said Israel doesn't have a timeframe by which it seeks to end its operations in Gaza.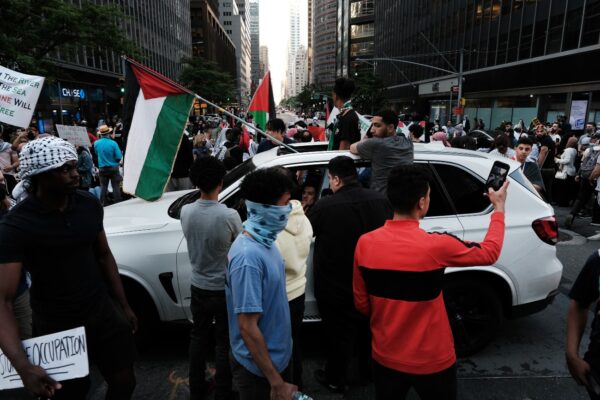 "We're not standing with a stopwatch in our hand, rather, we are making sure to meet the goals of this operation," Netanyahu said in a briefing to ambassadors on Wednesday, according to the Jerusalem Post.
Israel, he added, is trying to "degrade [Hamas's] their capabilities, their terror capabilities and degrade their will … There are periodic battles and we are trying to maximize the quiet and period of calm that Israel can gain against this foe." At the same time, the prime minister said that the government is "engaged in forceful deterrence" after Hamas launched thousands of rockets into civilian areas in Israel.
Some estimates have said that Hamas has launched more than 3,000 rockets since last week.
"They've actually killed two Israeli Arabs in Lod. Targeted Tira, an Arab town. They're truly an equal opportunity murderer. They murder everyone. Any civilian they can get their hands on," Netanyahu said. "And they use civilians. They target civilians while hiding behind civilians using them as you know, as human shields."