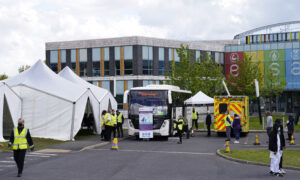 Health Secretary Matt Hancock has been warned that there is the danger of civil unrest if Bolton is placed under regional lockdown again.
As England prepares to get rid of all legal restrictions to curb the spread of the CCP (Chinese Communist Party) virus on Jun 21, there's the possibility that the Indian variant—which some experts say may be 50 percent more transmissible than the UK variant—can delay the date.
Hancock said on Wednesday that 2,967 cases of the variant have now been identified.
The government is hoping surge vaccination and surge testing can snub out the outbreaks, but ministers did not rule out the option to push ahead with the reopening while keeping some areas under restrictions in an echo of the controversial tiered system introduced in 2020.
Greater Manchester town of Bolton is currently one of the few areas where the Indian variant has become dominant.
When asked if he told Hancock there would be civil unrest, David Greenhalgh, Conservative leader at Bolton Council told BBC Radio 4's Today programme that he does think "there is a danger of unrest."
Greater Manchester was put under tier 3 lockdown last year. Hospitality businesses were ordered to close in tier 3 areas.
Greenhalgh said the whack-a-mole strategy didn't work.
"We've been there before and they don't work—not in a dense conurbation like Greater Manchester," he said.
"This happened before, the spread increased because people traveled 50 yards across the county boundary to access hospitality that they can't in their own area."
In October last year, the local leaders in Greater Manchester unanimously opposed the government's plans for Tier 3 lockdown, before having a stand-off with the government over financial support for the area, which the government won. Greenhalgh said there has been resentment built up.
"There is a great deal of resentment. Bolton was … we were disproportionately affected really since July last year," he told the BBC.
"Even when our rates were coming down, we still remained in lockdown when other areas' rates were higher than ours, so there was a build-up of resentment," he said.
"The people of Bolton have a great spirit and they come together when times are difficult.
"But this would be a very, very difficult situation to manage I believe—if we went into a lockdown that we have personal experience of as a town, which did not work."
Greenhalgh said there was no sign yet that cases were coming under control in Bolton, adding that "our cases are still rising."
"The majority of our cases are in very much our younger age groups—primary school, secondary school, and in their 20s," he said.
"We still haven't got an increase in hospitalisation and severe illness, which is hugely welcome, those figures still remain low.
Figures for the seven days to May 14 show that Bolton continues to have the highest rate of new COVID cases per 100,000 people in England.
Greenhalgh said he thinks the case number will keep rising, despite "everything" is being done.
"We're doing everything we can. The Government has sent in surge vaccinations, surge testing. … We're doing everything we can, but I think the next two weeks we will still see our cases rising," he said.
PA contributed to this report.