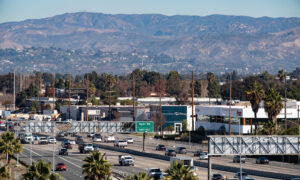 Authorities are seeing a rise in BB gun shootings on Southern California freeways, the California Highway Patrol (CHP) says.
"We are taking each of these incidents seriously and actively searching for those responsible," CHP border division assistant chief Donald Goodbrand said in a May 18 press release.
"The public should still feel safe while driving their vehicles on our California freeways."
More than two dozen incidents involving shattered windows on freeways have occurred in Orange, Riverside, and south Los Angeles counties during the past several weeks. Motorists have reported vehicle damage, with one minor injury.
The most recent incident occurred May 18, when a projectile blew out the windshield of a BMW on the 91 Freeway in Anaheim, authorities said. Earlier that day, another suspected BB or pellet gun shooting was reported along the 91 Freeway in Corona.
On May 17, the rearview mirror of an SUV was shattered in a suspected shooting on the 91 Freeway. On May 14, a CHP officer reported having a rear window shattered on the 91 Freeway in Yorba Linda, though the cause of the damage was not determined.
Three additional suspected freeway shootings—two in Anaheim and another in Corona—were reported the night of May 15 on the 91 Freeway. No one was injured.
"[This is occurring] definitely more than we see on a normal basis," Officer Dan Olivas, spokesman for the CHP's inland division, told The Epoch Times on May 10. "There's definitely been an increase from what we're used to."
The CHP is encouraging drivers to pay close attention to their surroundings. If a driver has been struck by a projectile, they are asked to contact the CHP as soon as safely possible.
Anyone with information is asked to call CHP's border division investigative services unit at (714) 288-6336.