President Joe Biden on Monday expressed his support for a ceasefire between Hamas and Israel following pressure from a group of Democrats, who want the ceasefire being backed by China and other countries at the United Nations Security Council.
The president "expressed his support for a ceasefire and discussed U.S. engagement with Egypt and other partners towards that end," the White House said in a statement about a conversation between Biden and Israeli Prime Minister Netanyahu.
Biden's comments come a day after the United States at a United Nations Security Council meeting had voted against a statement calling for a ceasefire—a vote that signals U.S. support of Israel's right to self defense against attacks from terrorist groups in Gaza.
Biden, while expressing his support for a ceasefire on Monday, also reiterated his continued "firm support for Israel's right to defend itself against indiscriminate rocket attacks," according to the statement—a position the administration has held since fighting began on May 10.
Part of the discussion between the two leaders was about the progress of Israeli's military operations against Hamas and other terrorist groups in Gaza, according to the White House.
Biden's latest statement to support a ceasefire comes after 28 Senate Democrats, led by Sen. Jon Ossoff (D-Ga.), issued a joint statement on Sunday urging for "an immediate ceasefire agreement in Israel and the Palestinian territories to prevent further loss of life and further escalation of violence."
Meanwhile, 19 Senate Republicans introduced a resolution (pdf) on Monday to reaffirm the United States' "unequivocal support" for Israel's right to defend itself, with no mention of support for a ceasefire.
"Let's remember what we are witnessing: these are terrorists ruthlessly attacking an ally. Defense of these terrorists is unthinkable.," Sen Rick Scott (R-Fla.), who is leading the GOP resolution, said in a statement.
"Acts of aggression toward Israel will never be tolerated. I'm proud to lead a resolution reaffirming the United States' full and unapologetic support for Israel as it defends its citizens from these reprehensible attacks," he added.
"It's time for President Biden to stop cowering to the anti-Israel radical left and remind these terrorists and the world of the United States' strong and unwavering support of the Israeli people," Scott said.
Tom Cotton (R-Ark.), one of the lawmakers who supported the Republican resolution, said in a statement, "Israel is our strongest ally. President Biden should unapologetically reaffirm U.S. support of Israel and its right to defend itself. The Left's moralistic calls for a ceasefire are little more than a propaganda win for Hamas."
Biden's statement contradicts U.S. actions on Sunday to block a joint statement from the 15-nation U.N. Security Council calling for a ceasefire and condemnation of Israel's military response to being attacked—a stance backed by the Chinese Communist Party. The United States had also twice over the past week blocked similar resolutions.
U.S. Ambassador to the U.N. Linda Thomas-Greenfield told the United Nations Security Council that it Washington would be ready to offer support "should the parties seek a ceasefire."
"The United States has been working tirelessly through diplomatic channels to try to bring an end to this conflict," she told the 15-member council. "Because we believe Israelis and Palestinians equally have a right to live in safety and security."
Secretary of State Antony Blinken signaled earlier that the United States did not intend to pressure the two sides. "Ultimately, it is up to the parties to make clear that they want to pursue a cease-fire," Blinken told reporters during a trip to Denmark.
Netanyahu told Israeli security officials late Monday that Israel would "continue to strike terror targets" in Gaza "as long as necessary in order to return calm and security to all Israeli citizens."
More Than 130 Terrorists Killed: Israeli Military
The Israel Defense Force announced late on Monday that Hamas and other terrorist groups had fired about 3,350 rockets from Gaza at Israel, 200 of which were fired on Monday alone.
Meanwhile, Israeli air and artillery strikes have killed more than 130 terrorists, and IDF fighter jets have, overnight, neutralized 9.3 miles of tunnel systems used by Hamas, the group said.
At least 212 Palestinians have been killed, including 61 children and 36 women, with more than 1,400 people wounded, the Gaza Health Ministry said. Ten people in Israel, including a 5-year-old boy and a soldier, have been killed by Hamas's ongoing rocket attacks launched toward civilian areas in Israel.
The Israeli military explained that there have been more Palestinian deaths in part because Hamas and the Islamic Jihad had "deliberately place rocket launchers and military sites within densely populated areas in the Gaza Strip" and encouraged Gazan civilians to remain in the area, even when the IDF warned them to evacuate.
An Israeli military spokesman also said that about a third of the terrorist rockets fired had fallen short and caused damage and casualties inside Gaza.
In response to non-stop rocket fire on Israeli civilians, the IDF launched Operation Guardian of the Walls one week ago. Here's what's happened so far: pic.twitter.com/sBcXSKxiMz

— Israel Defense Forces (@IDF) May 17, 2021
The IDF said it has been able to protect Israeli civilians via its Iron Dome Aerial Defense System, which has intercepted about 90 percent of rockets from the terrorist groups. Israel also has easily-accessible bomb shelters all over the country where thousands have sought refuge over the past week.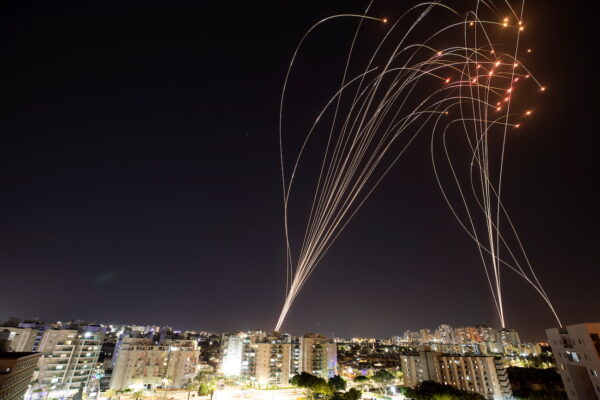 The conflict was triggered by a riot on May 10, when Palestinian rioters and Israeli police clashed in and around the Masjid al-Aqsa Mosque—a compound revered by Jews as the Temple Mount and by Muslims as the Noble Sanctuary. The riot also coincided with a planned Jewish nationalist march in honor of the annual Jerusalem Day and the Muslim fasting month of Ramadan.
In his statement, Biden said he "welcomed efforts to address intercommunal violence and to bring calm to Jerusalem." He also encouraged Israel to "make every effort to ensure the protection of innocent civilians."
Ofir Gendelman, a spokesman for Israeli Prime Minister Benjamin Netanyahu, said on May 10 that extremist Palestinians had "planned rocks and the pieces of intentionally broken furniture" inside a mosque for the riots that took place that morning. He shared video footage writing, "Watch: Paestinian [sic] rioters throw rocks and firecrackers on the #TempleMount. They stored them overnight, preparing to riot today."
Israel's Ambassador to the U.N. Gilad Erdan said on Sunday during the emergency U.N. meeting that the recent attacks by Hamas had been premeditated in order to gain political power in the West Bank at the expense of the Palestinian Authority. He had explained in detail on May 12 that the Israeli government had asked the nation's courts to avoid sensitive rulings around important calendar events before Hamas fired the first rocket in the conflict, adding that in a democratic country, the government had no control over court decisions.
"You cannot justify launching missiles and rockets deliberately on civilians with any legal dispute. Nothing can justify such an attack," he said.
Israeli police sought to intervene, in part by firing teargas and stun grenades into the compound to disperse the unruly rioters as innocent people fled the area, video showed. Hamas on May 10 demanded that Israel remove its police from the area by 6 p.m. local time. Minutes after 6 p.m., the terrorist group fired more than 150 rockets into Israel, triggering the IDF to counter the attacks with airstrikes toward terrorist targets in the Gaza strip.
The Associated Press contributed to this report.