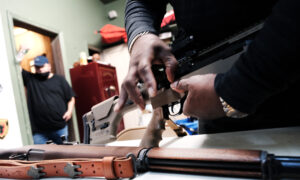 San Clemente city council will consider declaring itself a sanctuary city in support of the Second Amendment during its May 18 meeting.
An agenda item calls on San Clemente council to adopt a non-binding resolution that seeks to "recognize the Second Amendment as a right endowed by our creator," Councilmember Gene James, who authored the item, told The Epoch Times.
The resolution would be mostly symbolic if passed, but would show support for the constitutional right to keep and bear firearms, which James said is currently being besieged upon by lawmakers on both state and federal levels.
"My overriding objective is the safety and security of the people of San Clemente," James said. "The Second Amendment addressed the right of citizens to bear arms. This was a response to the heavy-handed police powers of the Crown and the desire to allow the people of the newly-formed republic to be safe and secure in their homes."
The resolution is not designed to address open or concealed carry of firearms, James said, but rather to help keep his constituents safe.
"Across the nation, we see assaults and intimidation of law-abiding citizens, we see destruction of private property and in urban areas we see an unraveling of society orchestrated by the 'woke' progressive movement," James said. "In the meantime both at the federal and state level there seems to be a growing movement toward an Australian or should I say Mao and Stalin type of gun seizure program. The Founding Fathers and framers saw this day coming and wanted us to be protected."
The idea to use the word "sanctuary" in the resolution came after other California cities used the term to limit their cooperation with federal immigration enforcement agents in an effort to protect residents from being deported.
"When the State of California and numerous cities in this state declared themselves sanctuary for criminal and illegal immigrants, there did not seem to be much concern; consequently, I used the word sanctuary in my resolution," James said.
James introduced the resolution on March 16, though discussion was reportedly paused twice after he received several emails on the matter. He said that while he's not changing his mind on the issue, he wanted to have more time to explain the situation and what it represents.
Councilmember Steven Knoblock also supports the resolution, according to the May 18 city council agenda.
San Clemente is not the first California city to consider passing a resolution supporting gun rights, as Needles, a city in San Bernardino County, also declared itself a gun sanctuary in 2019.