The Chinese Communist Party has punished tens of its officials in the wake of worsening COVID-19 outbreaks across the country. It also revoked the business licenses of three clinics and their doctors on May 16 and 17.
On May 17, 17 regions in northeastern China's Liaoning Province and eastern China's Anhui Province were designated as "medium-risk" for contracting the CCP (Chinese Communist Party) virus, commonly known as novel coronavirus, which causes the disease COVID-19.
Concerned about the increase in official case reports, records showed a 13.95 million jump in doses of vaccine administered on May 16—the largest number for a single day since March 24 when the regime started reporting the number of daily vaccinations.
According to reports, the latest outbreaks have been linked to cases that first showed symptoms in early May, when Chinese had five days off during the Labor Day holiday period. Around 230 million passenger trips were made.
In the hopes of keeping their jobs, Anhui officials deferred responsibility for their local outbreaks by claiming that their first patient was infected in Liaoning province, while the Liaoning provincial government claimed their outbreak was caused by two visitors from Anhui.
On May 17, Chinese netizens shared videos on social media showing that the regime was again fully restricting the movement of people in whole residential buildings by welding shut iron gates, affixing paper seals, or locking doors with iron padlocks from the outside.
"Once one resident is infected (with CCP virus), the whole residential compound will be sealed," a business owner at Yujingwan III residential compound in Yu'an district, Liu'an city, Anhui, told the Chinese-language Epoch Times in a phone interview on May 17.
Other interviewees from Anhui and Liaoning told of a similar situation they were facing. They complained that they didn't know the real situation of the outbreak due to the government's control of information but had lost their freedom, leaving them worried that they are not able to get out in case of an emergency.
The Chinese regime has not been forthcoming with reporting the scale of its COVID-19 outbreak. It has been criticized for only employing extreme control measures on its people. Interviewees from different Chinese regions have told The Epoch Times over the past months that loved ones have died due to being unable to leave their locked down residence to get to hospital when sick.
Worsening Outbreaks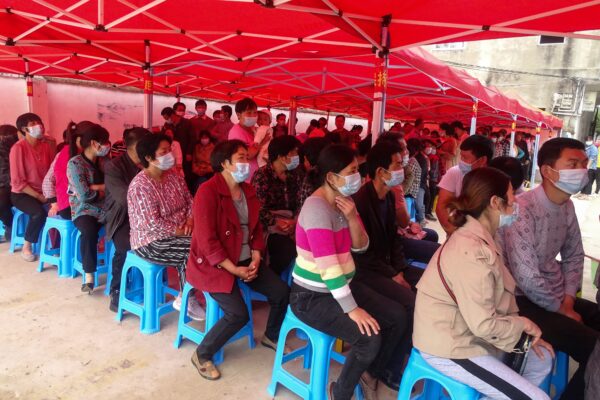 On May 17, Anhui and Liaoning officially reported new CCP virus infections, and emphasized that they would speed up mass testing of all residents to help find all possible infections for quarantine to curb the outbreak.
Patients from Liu'an and Hefei cities in Anhui, and Yingkou and Shenyang cities in Liaoning tested positive.
Schools were closed in the cities and officials locked down the residential compounds, with residents not allowed to leave their homes.
Both provincial governments announced that the first patients in their regions started to experience symptoms during the May vacation from May 1 to May 5.
A diagnosed COVID-19 patient, whose surname is Lv, visited a clinic in Yingkou city in Liaoning on the evening of May 3, and was treated for a sore throat. Liu'an Shi'an Hospital and Xiangling'an Community Clinic in Anhui treated several patients over the national holiday but diagnosed them with regular fever and didn't report the cases to the local government medical departments.
On May 17, Liaoning dismissed three officials from Yingkou city and warned nine other officials by recording a severe failure in their official resumes. Three other officials were reprimanded. On May 16, officials who were in charge of the Yu'an district health commission were sacked, and the district party boss and mayor confessed in front of the city's party boss and mayor.
The three clinics in Liaoning and Anhui that treated patients during the May vacation were forced to close and have lost their business licenses. Their doctors were also fired by communist party orders and they have been banned from medical practice for at least a year.
However, the regime says it hasn't identified the origin of the outbreak, as well as whether the virus has spread to other cities.
Origin of the Outbreaks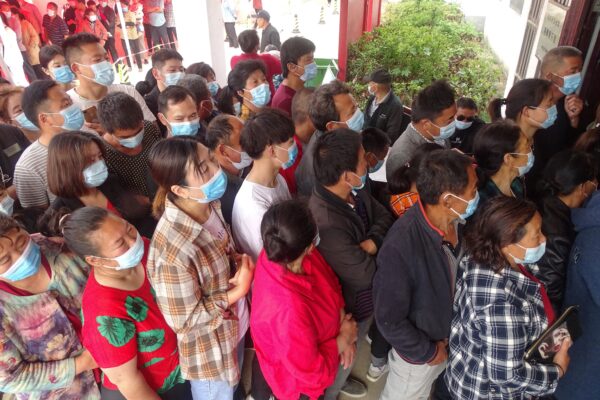 The Anhui provincial government said in a public statement that the patient who brought the virus to the province had visited five cities in three provinces from April 26 to May 2, including Lanzhou, Dalian, Yingkou, Hefei, and Liu'an.
The provincial regime emphasized that another patient, who was among the first diagnosed group, had visited Yingkou and started to have symptoms on May 3.
However, the Liaoning provincial government said that from their investigations, all diagnosed patients had contacted the Anhui visitors or their close contacts, and the Anhui visitors had never contacted people who came back to China from overseas when they were in Liaoning.
Wu Zunyou, a chief epidemic disease specialist for China's CDC, repeated the CCP's party line on the topic to Chinese media The Paper on May 15: "The origin of all new outbreaks in China,is from overseas, no matter if it's human or goods that transmitted the virus to China."
After the COVID-19 outbreak in central China's Wuhan city in Hubei Province was reported to have ended in 2020, the Chinese regime claimed that all newly spread CCP cases were from overseas, without mentioning that Wuhan was ground zero of the global pandemic.