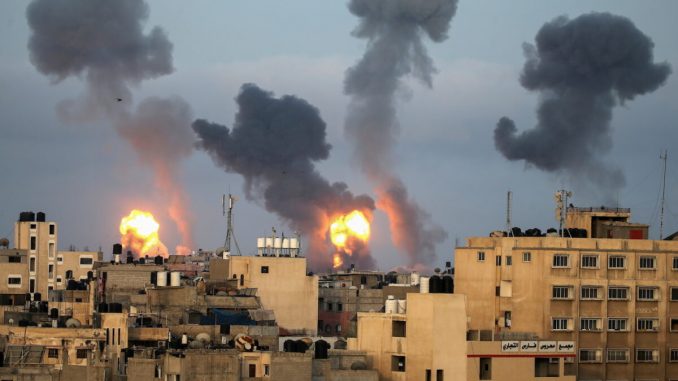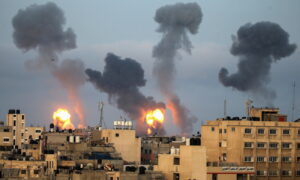 The United Arab Emirates has expressed "grave concerns" over the conflict between Islamist terrorist group Hamas and Israel, and is urging for both sides to immediately cease the violence.
"The UAE is alarmed by the escalating spiral of violence in Israel and Palestine. We express our condolences to all victims of the recent fighting, and join others in calling for an immediate cessation of violence and hostilities. The UAE calls on all parties to take immediate steps to commit to a ceasefire, initiate a political dialogue, and exercise maximum restraint," UAE's Foreign Minister H.H. Sheikh Abdullah bin Zayed Al Nahyan said in a statement on Friday.
He added that the UAE remained confident in the opportunity for shared prosperity and peace presented by the Abraham Accords—the landmark policy of the Trump administration in its efforts to reassess pathways to lasting Arab-Israeli peace.
"The events of the past week have been a somber reminder of the urgent need for peaceful dialogue and reconciliation. We reflect on the promise that the Abraham Accords hold for current and future generations, to live with their neighbors in peace, dignity and prosperity," he added.
He also expressed that the UAE stands ready to support any efforts to de-escalate tensions in the area.
"It is the true mark of leadership in this moment of crisis to refrain from provocations and reprisals, and to instead work towards a de-escalation of tensions," he said.
The UAE's statement comes as Hamas, Islamic Jihad, and other Islamist terrorist groups have fired around 2,300 rockets from Gaza into Israel since Monday, the Israeli Defense Forces (IDF) said on Saturday.
It said about 1,000 rockets were intercepted by its missile defences but that 380 were misfired and into the Gaza Strip, adding to the death and injury of civilians in Gaza.
Israel has launched more than 1,000 precision air and artillery strikes aimed at Hamas and other Islamist terrorist targets that are often built close to civilian landmarks in the densely populated coastal strip.
The exchange of fire has killed at least 149 people killed in Gaza, including 41 children, and 10 people in Israel, including two children.
On Saturday, President Joe Biden said he spoke with Israeli Prime Minister Benjamin Netanyahu to reiterate his strong support for Israel's right to defend itself against missile attacks. The U.S. president also condemned the "indiscriminate attacks" by the terrorist groups on Israel and expressed concerns about "intercommunal violence" reported in Israel's Jewish-Arab communities.
Hamas said its rocket assault on Monday was in response to weeks of tensions over a court case to evict several Palestinian families in East Jerusalem, and in retaliation for Israeli police responding to Palestinian rioters who Netanyahu's office said planned the unrest near the city's Al-Aqsa Mosque, Islam's third holiest site, on May 10 during the Muslim holy month of Ramadan.
Netanyahu in a press conference on Saturday vowed to respond forcefully against Hamas attacks on Israel, which he said were "unprovoked."
"Several Israelis have been killed. Many more have been wounded. You know and I know, no country would tolerate this. Israel will not tolerate this," he said. "We will continue to respond forcefully until the security of our people is reinstated, restored."
The IDF said on Saturday that it had carried out targeted destruction of a 12-story building in Gaza City on Saturday it said "contained military assets belonging to the intelligence offices of the Hamas terror organization."
The building also housed civilian operations, including the U.S. Associated Press, Qatar-based Al Jazeera, as other offices and apartments. All were able to evacuate after the owner received advanced warning of the strike from Israel. The IDF said they notified civilians by phone, SMS, and by dropping "roof knocker" bombs to warn them about the operation.
In a series of statements, the Israel Defense Forces said the operation was conducted on the civilian building that had been transformed into a military stronghold by Hamas. They said the building was used for military purposes such as intelligence gathering, planning attacks, command and control, and communications.
Reuters contributed to this report.