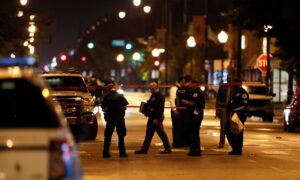 Two Chicago Police officers were shot on the West Side and were hospitalized on Sunday morning, officials said.
The shooting happened at 7:30 a.m. local time on the 1500 block of South Lawndale Avenue, according to the Chicago Police Department. One of the officers is in critical but stable condition, and the other officer was shot in the hand and in good condition, said police spokesman Tom Ahern to CBS Chicago.
The suspect who fired shots at the officers was struck by gunfire, Ahern told the Chicago Sun-Times. The person's condition is unknown.
Police spokesman David Brown said that the incident occurred when officers responded to an alert of shots being fired. When they arrived, they saw an armed individual in an alley who opened fire at the officers, who were in uniform, according to CBS Chicago.
The suspect's gun was found at the scene of the crime, Ahern said.
Brown said that the two officers had been on the police force for three or four years.
Police said that so far in 2021, 29 Chicago Police Department officers have been shot, and in the past 15 months, 108 officers have been shot. Six officers died due to shootings in 2021.
In the past two months alone, according to the Sun-Times, six officers have been shot in the city. On March 25, an alleged shoplifter fired on a security guard at a Home Depot before shooting a Chicago officer in the shoulder. The suspect later died in a shootout with police.
Five days before that in March, an officer was shot in her hand during a SWAT standoff in the Austin area by a man who was believed to have been trying to lure police there, the paper reported.
Over the past weekend from Friday night to Sunday morning, 29 people were shot and five were killed across Chicago, officials told ABC7. That included an incident at a large party being held on the city's South Side, which left two people dead and several others wounded.
A website that compiles shootings and murders in Chicago shows that in 2021, there have been 227 total homicides and more than 1,200 people have been shot.