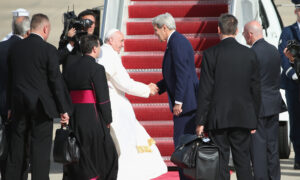 VATICAN—Pope Francis met with John Kerry, climate envoy for the Biden Administration, on May 14 after a closed-door conference on "Dreaming of a Better Restart" for the global economy.
Kerry is one of the first U.S. officials to meet with Pope Francis since the COVID-19 pandemic, and the first among members of the Biden Administration.
Pope Francis had reportedly refused to meet with then-Secretary of State Mike Pompeo, after Pompeo issued a scathing critique of the Vatican's China policies prior to his attending a conference on religious freedom sponsored by the U.S. Embassy to the Holy See in November 2020.
The Vatican's recent human rights record in China may be related to its negotiations with Beijing about the status of the Catholic Church. Reports regarding the ongoing and secretive Sino-Vatican deal—including statements from leading experts on the matter, such as Cardinal Joseph Zen of Hong Kong— include allegations that the agreement includes Vatican silence on Chinese religious and socio-political persecution.
Recent testimony by Kerry before the House Foreign Relations Committee contrasts strongly with the position of the Trump administration. For instance, Kerry said that while the Biden administration acknowledged concerning links between the manufacture of solar panels and Chinese slave labor from persecuted groups—such as the Uyghurs—its policy was that "climate is existential" and "China has got to be part of the solution."
In an interview with Vatican News following his meeting with Pope Francis, Kerry explained why it was important for him to meet with papal head: "The pope is one of the great voices of reason and compelling moral authority on the subject of the climate crisis.
"He's been extraordinary in the eloquence of his call on people to step up and be reasonable and to live out our responsibility as human beings in caring for God's creation. Because he is above politics and outside of the hurly-burly of day-to-day, national conflict, etc. I think he can sort of shake people a little bit and bring them to the table with a better sense of our common obligation."
The conference that Kerry attended included high-level world economic leaders, but was closed to the public and the press.
Topics of discussion, according to a booklet released by the sponsoring Vatican Pontifical Academies of Sciences and Social Sciences, included "Debt Relief for Developing Countries and International and Fiscal Architecture," and "Climate Change and Sustainable and Fair Energy and Food System Transformation."
Discussions were led by economic and banking leaders, including Columbia University economist Jeffrey Sachs—known for his support of population control as a solution to end extreme poverty.